Thank you to everyone who attended our Fall Tech Fest! If you missed the talks, then you can now watch a recording of the event in full.
This was another record-breaking event and, once again, our biggest event to date. More than 750 people signed up globally, all interested in similar topics and with various motives to join. Our poll shows that you were most interested in discovering emerging Enterprise Architecture trends (65%) and getting the latest and greatest from us through live demos (47%).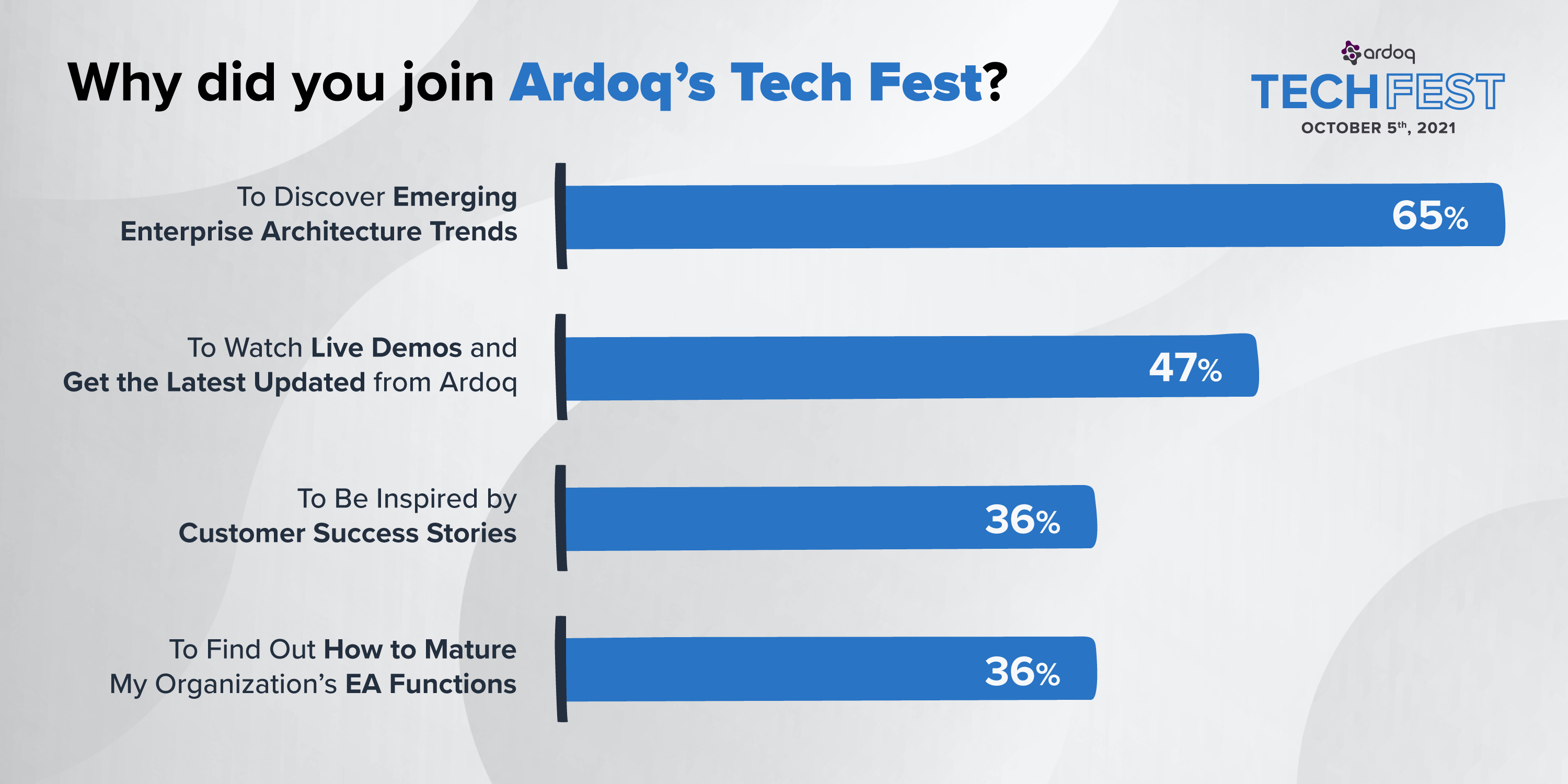 Businesses are becoming increasingly IT-intensive, and organizational change is speeding up even as it becomes more complex. With this increased speed and complexity, it can be difficult for organizations to coordinate and prioritize effectively. We see evidence of this in our own growth.
We always take the time to get our experts to answer your questions more in-depth after the event, and this year, there was no doubt that our talks with customers STIHL and Premier Tech sparked a lot of inspiration. We incorporated these with our own learnings and a-ha moments as we listened to the speakers.
Let's dive in.
Emerging Enterprise Architecture Trends
Jason Baragry, Ardoq's Chief Enterprise Architect, took us through the emerging trends and the evolving role of the Enterprise Architect. The modern Enterprise Architect now spends their time in three core areas of practice: Increasing transparency, driving strategic change, and improving change processes. The second and third areas are enabled by new Enterprise Architecture (EA) platforms such as Ardoq, which allow dynamic, data-driven modeling of an organization. Tools like these enable organizations to make change an ongoing process of improvement in the enterprise. Enterprise Architects are then in a position to form strategic partnerships and advise decision-makers.
With the power of new technology platforms, we have observed two key trends in the domain: the rise of the Digital Twin of an Organization and the Socio-technical Organization. The second trend encompasses recognizing and documenting the people aspect of an organization and layering their interactions over assets and other processes. This allows a more comprehensive understanding of an organization's inner workings.
One of our main focuses at Ardoq is to ensure our platform reduces the time Enterprise Architects spend modeling and updating. We want to enable them to devote more resources to becoming a strategic partner to their organization, leveraging the insights of their practice.
How to Ensure Enterprise Architecture Participation
Emmanuel Dugas-Gallant, Application Architecture Director and Scott Brooker, Business Architecture Director, from Premier Tech talked us through their EA journey that began in 2016. The company realized the need to understand its technological landscape due in part to the amazing amount of growth and investment experienced in the last few decades. Ardoq gives them quality support as they moved through that process. In their first nine months with Ardoq, their meetings have moved from tech-based conversations to information-based discussions because visuals such as diagramming and Model Generation can easily tell the story, and help align people with perceived differences in strategic direction.
Premier Tech explains: "The game-changer for us was Surveys, which gave us a way to record the questions in a common language, so the business users and technical users could provide knowledge to help us better understand the landscape. As a result, we adopted a democratizing, collaborative approach."
Q: How do you get people to vote on innovation ideas using Ardoq Surveys?
Ardoq's Surveys allow you to target subject matter experts based on their connectivity to the architecture (i.e., their specialist skills) or keep the voting process open so everyone can help with prioritization. With Surveys, you can set fixed options for people to vote on, which can then be aggregated into a dashboard or visualization.
Q: What is hindering business leaders to see the true value of Enterprise Architecture?
Answer from STIHL: Enterprise Architecture Management (EAM) is not as well known as project management is. So understanding the benefits and how they can be achieved requires education about the method. We try to educate and show results to convince the leaders.
Answer from Ardoq: Often, it comes down to visibility - this is why the EA team needs to get their data and insights in front of business leaders. Even at a basic level - for example, mapping your applications to departments or capabilities - creating IT and business transparency has a lot of value by giving context to leaders' choices and decisions and aligning conversations around a standard view.
Q: Talk about your approach for showing the value of Enterprise Asset Management (EAM) to your business partners.
Currently, STIHL creates value by having transparency around technology that is readily available across the company. Still, in the future, the business should actively manage its value streams and capabilities in Ardoq.
Q: What do you recommend to an organization that doesn't have Application Portfolio Management or EA tools, but legacy applications seeking to modernize?
The best place to begin is to catalog all applications in a spreadsheet or SharePoint. This will help you gather basic data about what you currently have. What a dedicated Application Portfolio Management or EA tool will offer you is a representation of the multiple dimensions of data you will need to model for effective decision-making. Maintenance of this data will be easier through automation while providing advanced analysis and engagement capabilities.
Q: Can you manage software assets in Ardoq, or do you use other tools?
You can integrate software asset data from a third-party application or model this data directly into Ardoq. Ardoq allows you to model software assets and link them so that you can analyze the impact of adding or removing them. Timeline visualizations and Broadcasts also enable you to keep track of asset life cycles, contract dependencies and analyze risk.
Q: Who adds content to Ardoq, and how do you do it?
Content can be added from external sources, such as Excel, or by leveraging Ardoq's integrations like STIHL's architects did with ServiceNow and Azure. However, the best way to get data from the widest possible contribution community is through Ardoq Surveys. These can be fully tailored using Ardoq Broadcasts, allowing you to personalize who receives the surveys, to wrap the workflow and governance around them, and to keep track and manage the overall process. If users want to manually update large volumes of data, then we recommend using the Grid Editor directly in-app. In the case of STIHL, their team of business analysts and domain- and solution architects are adding data using the Ardoq UI.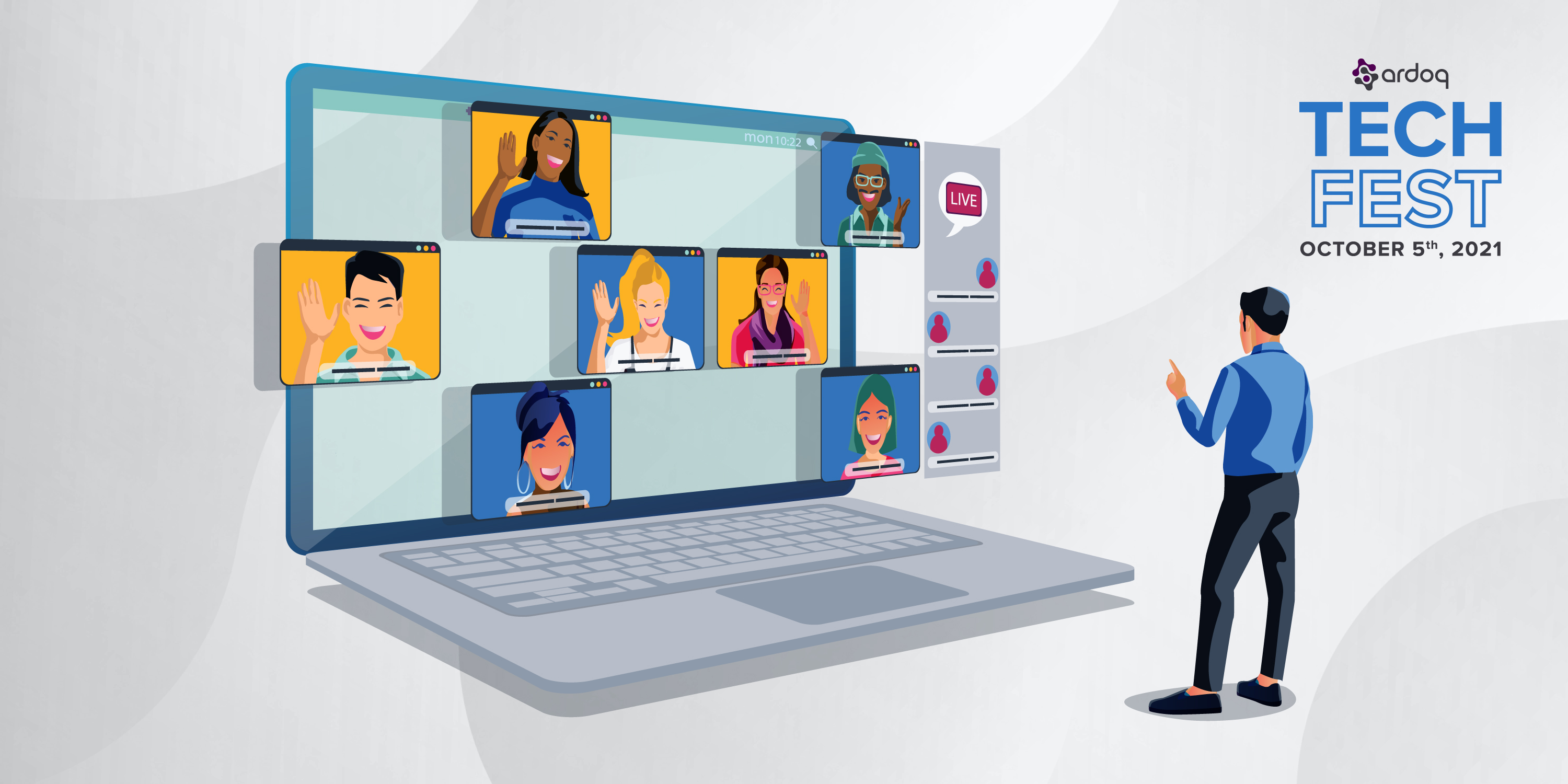 Embarking on an Enterprise Architecture Maturity Journey
Robert Pröber, STIHL's Group Manager for Cloud and Data Governance talked about how IT was run before they started using Ardoq. Back then, IT within STIHL was run as cost-efficient as possible but had minimal impact on business, lacking a digital products and services portfolio. In addition, their tech stack ownership was distributed across multiple departments. They lacked a unifying system to leverage for more strategic insights. Then around 5-10 years ago, their business started being more cost-effective with increased capacity, with IT delivering value and strategy.
The business is now transforming with digital products such as spare parts research, apps for consumers, online solutions, and robotic technologies. The STIHL team achieved this through building internal trust with IT leadership, with the sponsorship of their Chief Information Officer.
Q: How big is your Architecture Management Team, and how is work distributed? Are they based on Business Domain or Technical Level?
STIHL's team has almost 20 people who, with the aid of Ardoq, have modeled 70 business capabilities to date and 140 technologies supporting apps. They have also realized 50 technical capabilities. Their Enterprise Architects maintain the building blocks, change requests, and governance while the solution architects design solutions. Meanwhile, business analysts take care of the business architecture, gathering requirements for the architecture work and identifying gaps.
Q: You mentioned that you copied the applications and technologies details from hyperscale. Are you referring to HCI tools like VSan?
Answer from STIHL: We import the PaaS services that are in use on our hyper-scale platforms. They are technical component objects in the metamodel, so VSAN could fit in here.
Q: How do you intend to maintain the manually entered parts of the Ardoq model?
Answer from STIHL: Some are maintained by Surveys or Broadcasts, others by future integrations. Some will remain manual.
Q: Why do you need TOGAF? What are you lacking with what you have today? From what I heard from you, a "more formal framework" may not be adding value…
Answer from STIHL: We are missing education about EAM in our organization. TOGAF is a well-developed standard framework with a common vocabulary. By adopting this particular standard, we see advantages in education and hiring. It's more efficient because you can reference the standard instead of building it custom.
Q: The TOGAF framework is a lengthy 900+ pages. Which part of the framework do you want to adopt, and how will you deal with the likely differences between metamodels?
Answer from STIHL: As recommended, we will tailor the TOGAF framework to the relevant part of the organization. Fortunately for us, the metamodel we are using in Ardoq is almost identical to the TOGAF standard. The Ardoq platform's flexibility is such that we can pick out the pieces of the framework that we need and then adapt the model if necessary.
Getting Started with Ardoq
To use Ardoq successfully, customers stay focused on business outcomes, defining what matters strategically. They find stakeholders to be business partners, and with them, they break down silos. Finally, they deliver value, helping the company achieve its objectives while creating momentum to carry the program forward.
Q: Where did you start? Application Portfolio Management (APM) or Business Case Modeling (BCM)?
While STIHL started with Application Portfolio Management, that's not always the most suitable solution for every organization. Premier Tech started with one of Ardoq's out-of-the-box best practices and was fully set-up in under a month. We at Ardoq recommend basing your starting point on the following criteria: outcomes you want to achieve, the sponsorship you have, and the data available to you. APM and BCM are great starting points because they directly deliver value and are foundational for many other Use Cases like Cost or Risk Management. If you're struggling to know where to begin, our Customer Success Team can walk you through our predefined Use Case Guides and tailor a plan for you to realize rapid and incremental value.
Q: Do you integrate with Purview?
Integration with Purview hasn't been requested previously, but we're always keen to discuss new integration requirements with customers and understand how they'll be used. Our existing Azure integration covers a lot of use-cases, and our open REST API is another way to bring external data into Ardoq.
Q: How do you approach TOGAF in the context of the Architecture Development Method (ADM) cycle vs. Ardoq, etc.?
The ADM cycle is the basic structure of the process. Through the steps, data needs to be created to reflect baseline, increment, or target architectures. Almost all the information about architectures will be stored in Ardoq, so you could say it acts as a repository.
We hope to see you again next year for the Spring 2022 Tech Fest! Stay in touch and until next time: 📬 sign up for our newsletter
We want to engage and connect stakeholders across the organization. We listen to our customers' pain points, deliver solutions, and write about them.