Nebraska state's largest hospital, Nebraska Medicine, is enabling business change by mapping the organization's application portfolio in Ardoq. Nebraska Medicine is internationally recognized for breakthroughs in cancer care, organ transplantation, and the treatment of infectious diseases. Their mission is to create a healthy future for all individuals through innovative research and extraordinary patient care. Their Enterprise Architecture team has been instrumental in bringing this mission to life.
Nebraska Medicine at a Glance
Nebraska's largest hospital, with over 9,000 employees. Has a close research and education partnership with the University of Nebraska Medical Center (UNMC)
Key mission is to be a global leader in transforming lives to create a healthy future for all individuals and communities through premier educational programs, innovative research, and extraordinary patient care
Awarded best-in-state by U.S. News & World Report, listed as one of the 100 greatest hospitals in America by Becker's Hospital Review, and included in Forbes' best-in-state employers.
Bridging Communication Gaps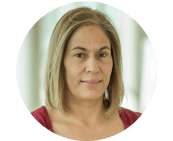 "I'm able to build the visualizations and send them to the Hospital's VP (Vice President), meaning the VP can go to discussions armed with data. This enables higher-level executives to make good decisions without needing to know all the details. That is the value I provide."

- Audrey Honeycutt, Enterprise Architect at Nebraska Medicine
Research from a 2019 Forrester report commissioned by Ardoq* found that the business insight potential is greatest when there is a deep understanding of company-wide capabilities and technology assets. The report states that digital businesses thrive when they can harness data-driven insights for operational and strategic business making. The Enterprise Architect has become a key enabler for reaching these goals.


Nebraska Medicine and their research and education partner, The University of Nebraska Medical Center, share the same mission. The hospital has an annual economic impact of 4.8 billion dollars and over 9000 employees. Honeycutt says:
"For us in IT, we use Ardoq to drive best practices for better processes. Ardoq has helped us move towards the process of seeing how everything fits together, instead of having to deal with our many applications separately."
Honeycutt explains that their system has many different niches: clinical labs, infrastructure, and 600 documented applications. The IT department bridges the gaps and creates an overview, bringing everything together from an IT architectural perspective.
How Enterprise Architecture Brings Value to the Business

The IT department at Nebraska Medicine has gone from facing challenges with keeping information about applications up to date, to providing the organization with a single "source of truth" for information.
Previously, supporters of apps in the organization would compile data in unstable Excel documents, leading to significant security concerns. This process has now been replaced with Ardoq Surveys. Honeycutt says: "We have made it easier for the owner of the applications by sending surveys with questions for them to answer. They complete the documentation, and that's it - everything is automatically updated."
Ardoq Surveys offers personalized user interfaces to ensure the best quality and collaboration when gathering data from the wider organization. Ardoq Surveys can be automatically generated, follow pre-configured best practices, or be tailored to an organization's needs directly in the app. This function, in combination with living dashboards, enables businesses to maintain a convenient overview of gathered information and KPIs. In addition, data processing and quality is more easily managed across large numbers of contributors.
By using Ardoq Dashboards to follow business-critical KPIs, Honeycutt and her team have implemented an accountability factor to ensure that Surveys are completed and that the data stays fresh.
By democratizing maintenance and accountability to those most familiar with the data, the Architects can do more value-adding work, improving the detail and quality of the data needed for decision making. At Nebraska Medicine, many contribute to the documentation in Ardoq: "Our VP of Information Technology is a visionary who wants to modernize - he drives the mission of digitalization. He really supports the project, and we also have important input from our Enterprise, IT and Solution Architects, Application owners, Business owners, IT Operations and Clinical Program Chiefs."
"Our VP of Information Technology is a visionary that wants to modernize - he drives the mission of digitalization."
Democratized Data Documentation Enabled Focus and Prioritization
Getting critical data documented in Ardoq and using the platform as a communication tool are among the IT team's foremost tasks today. Previously being in a "best guess" situation when going into new areas, they were looking for the tool that could give them exactly what they needed - a platform that would help add structure and capture knowledge. - "In order to get things automated, we have to document it. [Ardoq] is so flexible that you could just throw stuff in there. However, to make sure that we work towards our preferred outcomes, we try to keep focus and be strict around the implementation of data."
About 90% of business and EA professionals list flexibility as a top requirement for an enterprise architecture tool. Digital businesses need architecture platforms that support them in their efforts to be customer-centric, insight-driven, to deliver faster value to market, and to connect stakeholders across the enterprise. - Research from a 2019 Forrester report commissioned by Ardoq*
Proving Business Value by Connecting the Data
To show the level of criticality for the enterprise, Honeycutt has developed a business value rating attached to the applications. This is accomplished by using Calculated Fields; a combination of Ardoq's visualization capabilities and a powerful graph engine that enables you to visualize more complex properties of your data. "This allows us to understand what our most critical applications are and where we need to invest, because we know this is top of the stack labor."
"For me, the "wow"- and deciding factor when choosing Ardoq as our tool for enterprise architecture was the Dynamic Visualization. I wanted to save time not having to manually do updates every time something changes."
The hospital's Enterprise Architect explains that by getting a good overview of the business, the time and effort spent in building connectivity is outweighed by the increase in speed for critical processes: "When we are looking to fund projects, we can go to Ardoq and check the data. Do we have this already? Do we need it? If it goes through, we can get support for the project quicker, also because Ardoq shows us what domains we need to engage."
She adds: "It might seem that collecting all this data is slowing the work in progress. But that's the nice thing in our continued use of Ardoq; what seems to slow down processes can actually speed them up. We can use Ardoq as a stop gate by identifying our hotlist over our most critical projects. We also know that we have a disaster recovery plan if something unexpected were to happen. We can see what the apps depend on, what they run on and therefore also know what we need to get the app back up running. Being able to quickly provide information of what applications are affected if servers are down is key."
Nebraska Medicine's IT department counts about 70 people. The team consists of business and IT owners, in addition to the architecture team. The architecture team has been using Ardoq to enable better conversations with the business stakeholders.
Honeycutt sums it up:
"Really, it is about having better conversations across the business. The ability of the platform to pull in all these data sources, and have them automatically update dynamic visualizations, was what made me fall in love with Ardoq."
Key Takeaways
With Ardoq, Nebraska Medicine has:
Created a single "source of truth": Information about applications from many individual contributors can be kept up to date in Ardoq securely using Surveys, providing the organization and decision-makers with reliable information. Dashboards allow them to monitor and keep application owners accountable for keeping data updated.
Actionable insights into application value and business impact: Ardoq's Calculated Fields

and

dynamic visualizations

help them understand what their most critical applications are and where investment is needed.

Data-driven decision-making and project planning: VP and other key decision-makers have speedy access to data and visualizations for consideration in new projects or discussions.
Dynamic visualizations at their fingertips: Substantial time savings using Ardoq's visualizations which are dynamic and always up-to-date.
Explore Ardoq Use Cases or more Customer Stories to learn how we can help tackle business challenges.
---
*The 2019 Forrester report, "Simplify Your EA With Context And Automation", commissioned by Ardoq to evaluate how well organizations can activate operational and business data to support business priorities.
---
Katrine Ascic
Katrine is Ardoq's Brand Marketing Manager, making sure we look good no matter where we go. A multi-talent, Katrine leads Ardoq's events, including the incredibly popular Amplify series.