In 2021, we had the idea to build a platform where IT professionals and leaders could share their insights and discuss the process behind successful organizational transformations. Combining Ardoqian Henrick Holth's expertise with Ardoq's creative space allowed us to launch our first ever LinkedIn Live series, Behind The Future.
2021's Behind the Future gained almost 2,800 attendees, and this resounding success left us keen to continue enabling discussions between like-minded industry experts. If want to explore how well-established companies apply their digital transformation visions to achieve business goals, here are some insights from architects and IT professionals who joined us on Behind the Future in the first half of 2022.
We hope that you're intrigued and inspired to learn from industry specialists. You can always join our live events on LinkedIn if you find something that sparks your curiosity.

Purpose-Driven Leadership and Building a World-Class Technology Team
Chief Digital and Information Officer of London Business School Danny Attias dives into what it takes to create world-class technology functions. As a university, London Business School handles multiple key business stakeholders, from students to government. Danny's valuable insights cover hot topics, like why security is no longer an isolated part of organizations, and delve into tips for:
Getting C-level buy-in on security issues
Avoiding an 'attack and defense' loop in leadership
Learning the language behind investing in change technology
In 2020, Danny was recognized for his digital transformation efforts and topped CIO UK's CIO 100 list. Speaking from both his business and technical perspective, he explores the importance of empowering teams, delivering continuous value, and handling change at speed.
To discover the full story, including how Danny seized the chance for digital transformation in his previous work with the UK Stem Cell Register, you can watch Purpose-Driven Leadership and Building a World-Class Technology Team.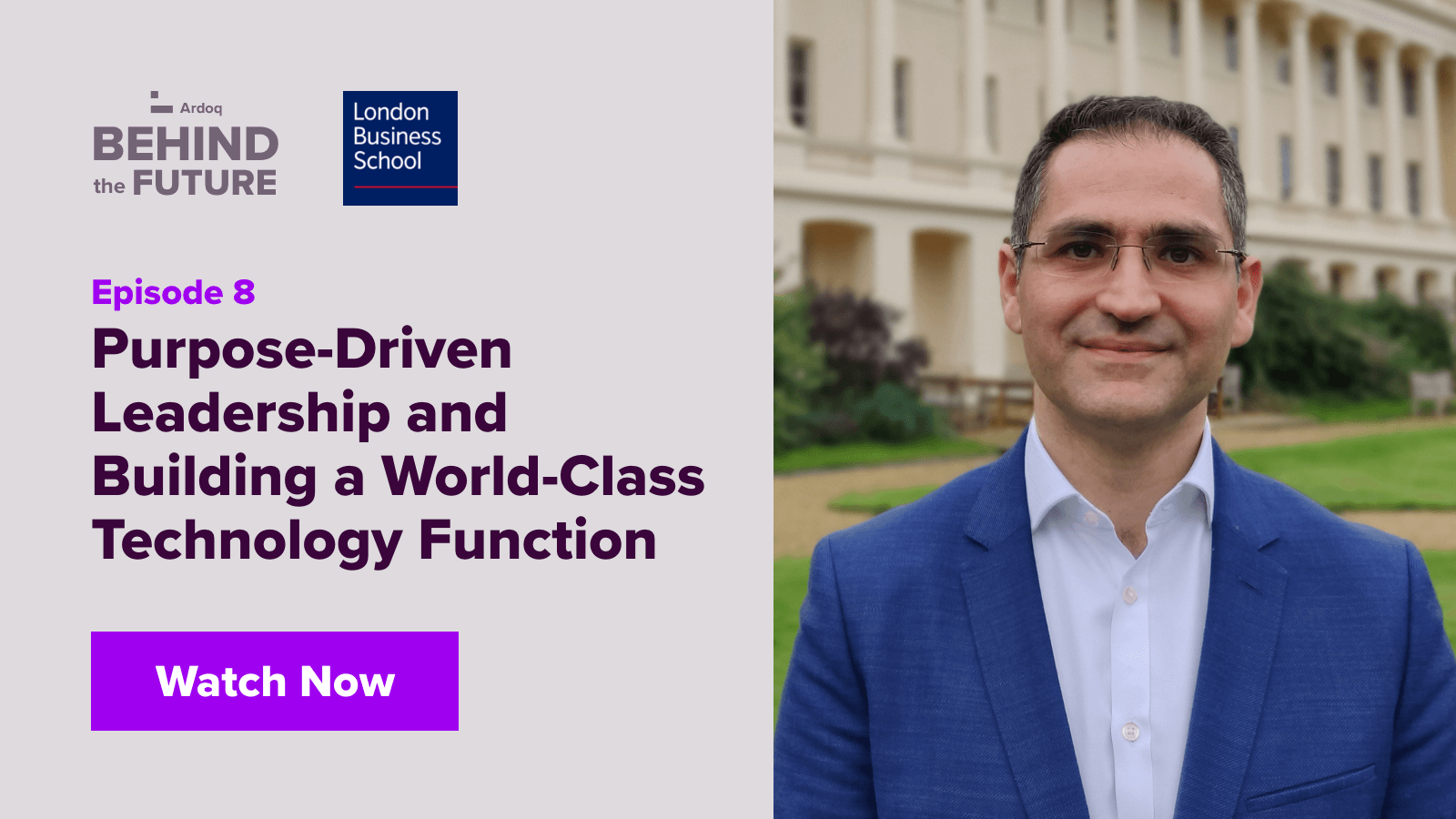 Is Enterprise Architecture Dead?
Gideon Slifkin, LinkedIn influencer and Global Enterprise Architect at Deloitte looks at the vital signs of Enterprise Architecture and defines 3 noteworthy challenges in the field.
Spoiler alert: Gideon doesn't believe Enterprise Architecture (EA) is dead, rather it faces some real obstacles.
Gideon's 25 years of EA work have given him deep insight into these obstacles. While consulting, Gideon has seen some recurring challenges Enterprise Architects face:
Clear description: Many EA teams struggle to explain what they do to stakeholders. Without a defined role, other departments can't begin to understand EA value.
Too much Terminology: EA involves highly technical EA terminology. Stakeholders need it translated into terms they understand in order to appreciate the value of EA.
Gaining trust: Teams need to gain stakeholder trust and buy-in for long-term success.
From these issues, Gideon defined 3 EA challenges and what to do to prevent them. Learn about the 3 noteworthy challenges or watch the Is Enterprise Architecture Dead? video.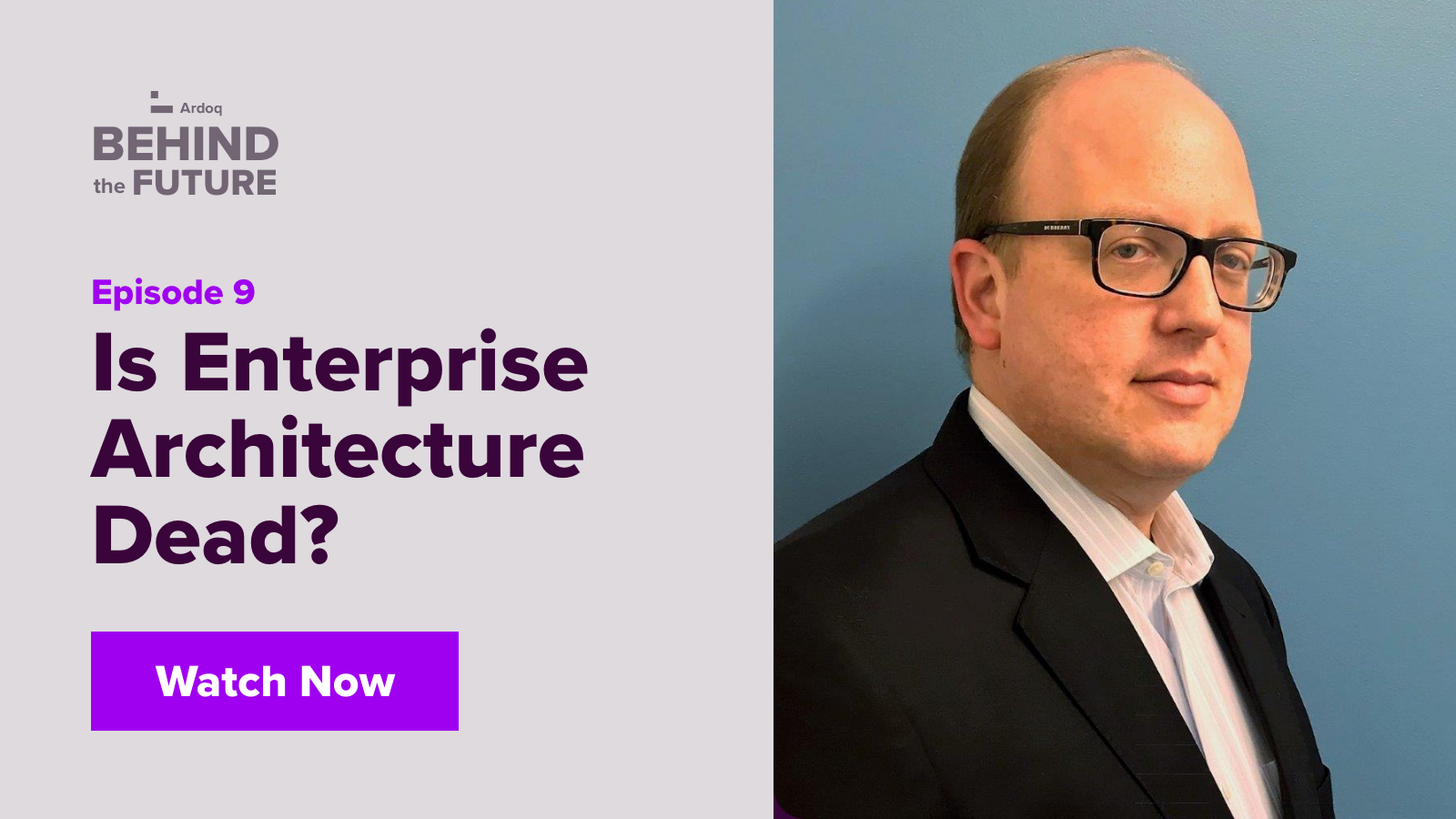 Driving Change in One of Europe's Largest Healthcare Systems
In this episode, we chat with Digital Advisor to the CIO office at Ireland's Health Service Executive (HSE), Gar Mac Críosta. Gar and his team at HSE manage the full suite of health and social services to deliver better health and social services for the people of Ireland.
Drawing on industries from healthcare to banking and everything in between, Gar dives into what it takes to successfully run stakeholder management. Don't miss the story behind the cyberattack that left HSE in the dark mid-pandemic as Gar explains how the team dealt with the fallout from facing every organization's worst nightmare. He discusses how his team began rebuilding their infrastructure and mapped what they:
Needed to know

Actually knew

Wish they knew.
Want to learn how artifacts of shared understanding can help improve the quality of the conversations around change? Discover the importance of speaking a common language, Driving Change in One of Europe's Largest Healthcare Systems.

Change Made Simple
Currently an Interim / Fractional CIO at his own consultancy firm Simpler Change, Enrique Fernandez-Pino shares the principles he's developed from 30 years of experience following his passion for project and change work. He discusses how these principles have enabled him to deliver complex solutions across industries, including:
Technology and Digital
Retail, Finance
Security
Enrique explains why it's essential to establish whether there is a need for change before you implement it. From there, he shares tips on leading change projects by example. Whether you're looking for tips on finding your 'A Team' or you want to learn what it really means to 'go into bed with finance,' Enrique's breadth of experience has enabled him to fine-tune the art of simplifying change.
You can listen to Enrique discuss clear strategies for approaching business and learn more about his pragmatic, implementable solutions by watching Change Made Simple.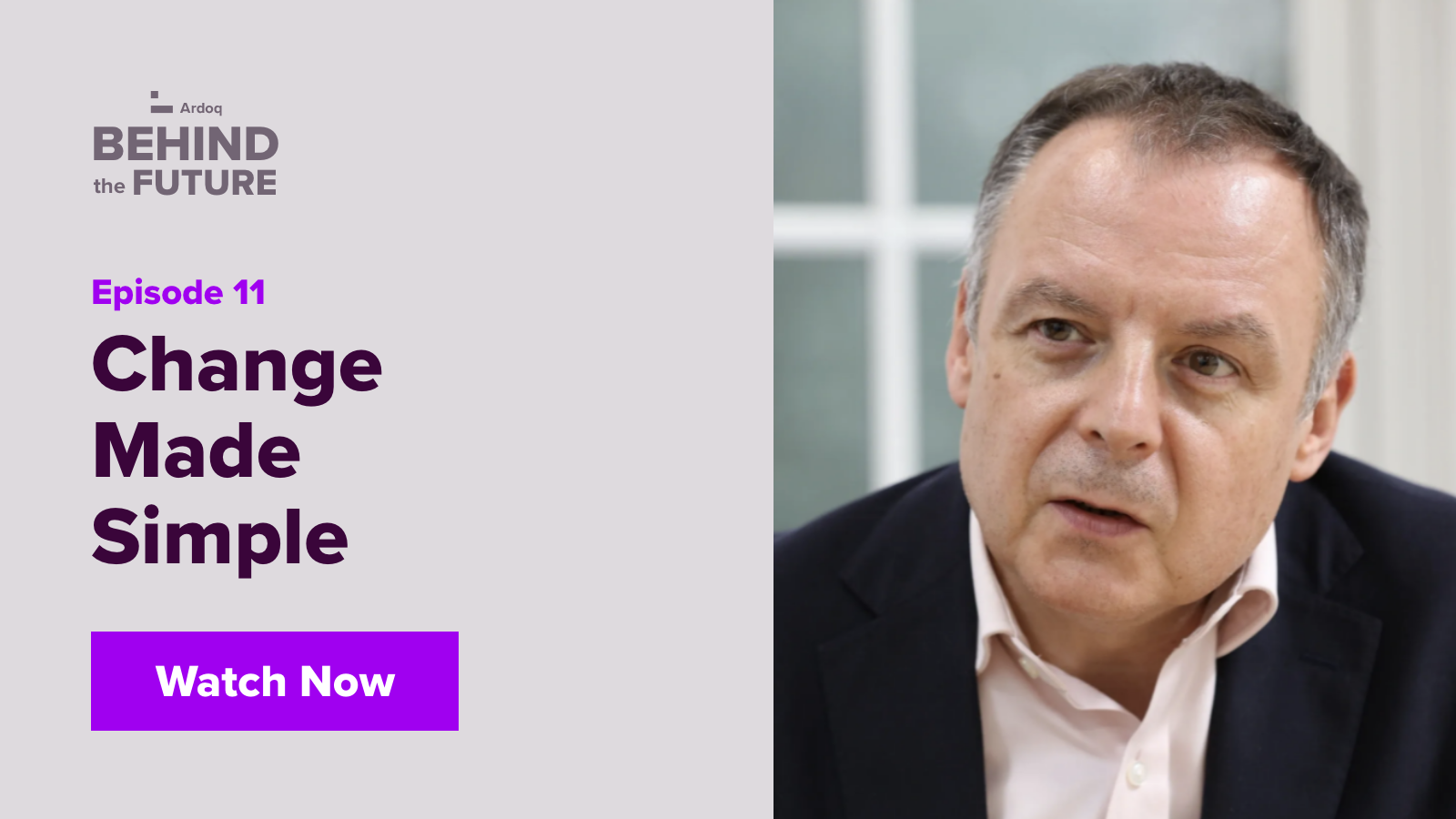 Starting an EA Practice — Lessons Learned and Quick Wins
Audrey Honeycutt has been working as an Enterprise Architect at Nebraska Medicine, the top-rated hospital in Nebraska, for nine consecutive years. With over 4,000 people employed and covering three areas of business, all with their own individual needs, it's no surprise that Audrey needs to get a bird's-eye view to see how every team plays.
Audrey takes us through the journey of starting an Enterprise Architecture practice and shares the lessons she has learned from her successful implementation of EA at Nebraska Medicine.
Diving into her journey from Programmer to Enterprise Architect and all the roles in between, Audrey discusses:
Tips for setting up an EA practice at your organization
To use frameworks or not to use frameworks?
Using persistence to build a solid foundation
If you would like to find out more about how Audrey tackles the complexity of juggling technical problems, adding value, and the importance of getting executive sponsorship for your EA initiatives, you can watch Starting an EA Practice — Lessons Learned and Quick Wins.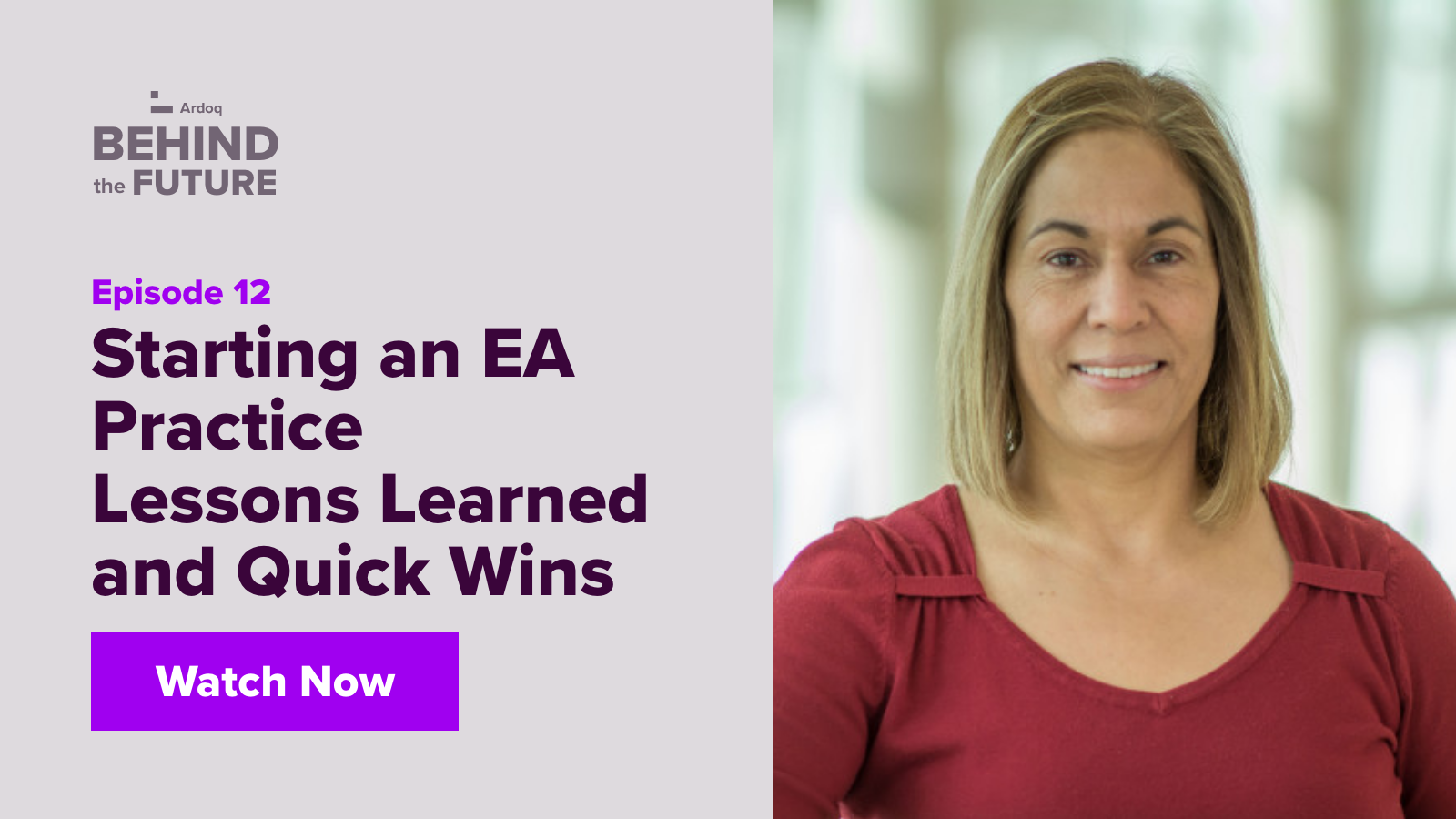 A Field Guide to Digital Transformation
If you've been looking to drive digital transformation, you don't want to miss Roger Stoffers discussing the connection between business, technology, data, and people.
As an Enterprise Architect, Roger takes on multiple roles, including working for de Volksbank, independent consulting, and training. His combined skill set allows Roger to get behind the buzzwords and explore what 'digital transformation' really means.
In this episode, Roger explains how he transitioned across the architecture space, from development and code and beyond, to uncover his passion for seeing the end results in an organization. He shares his multifaceted insights on:
Overcoming business silos to improve the customer relationship

Handling intercultural challenges

Reducing the distance, and achieving alignment between business and IT
If you would like to deepen your understanding of where the EA role fits into an organization and learn how EA's can facilitate solving strategic goals you can watch A Field Guide to Digital Transformation.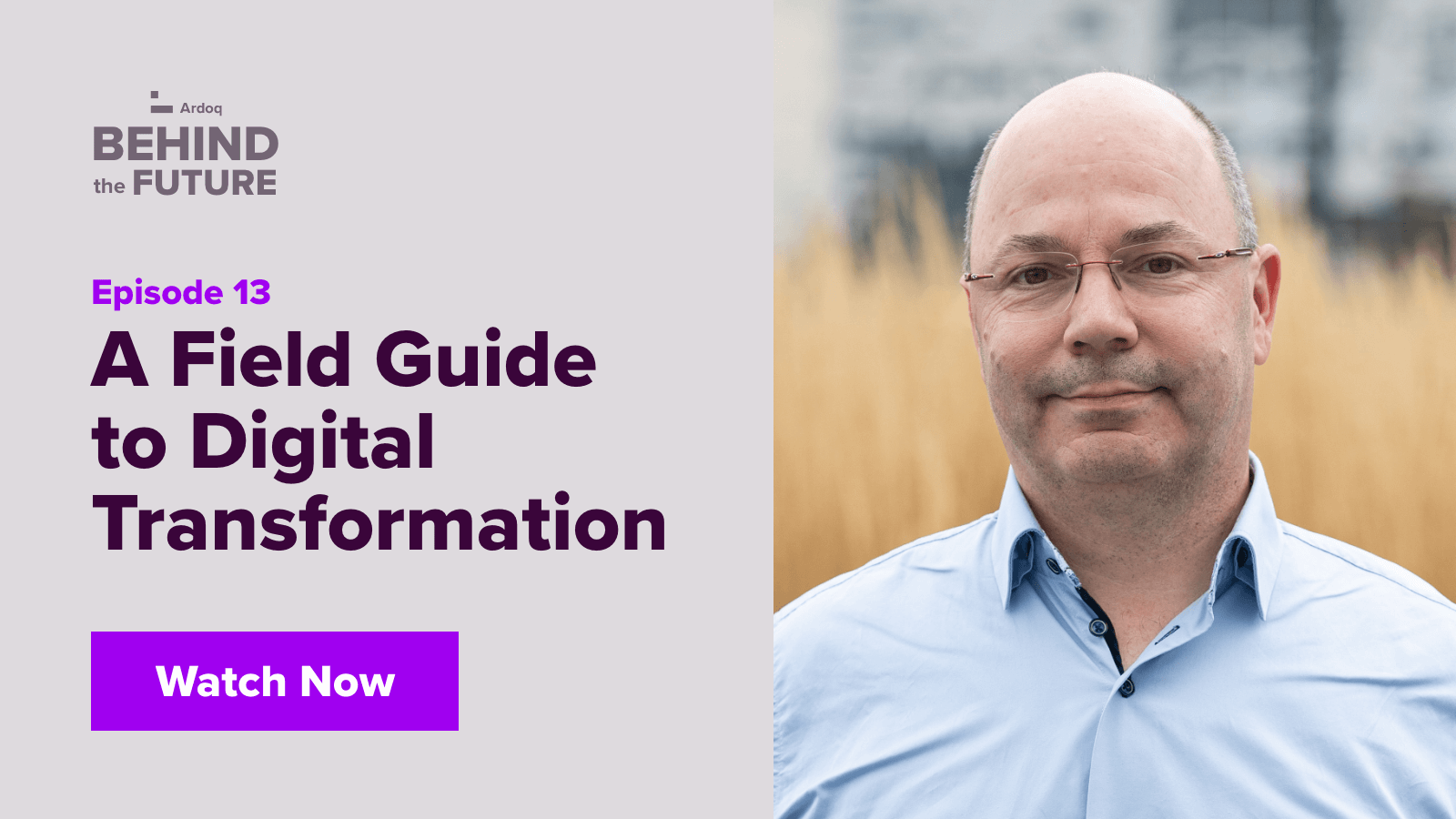 Be Inspired by Digital Transformation Visions
Change often requires organizations to find new ways of thinking and working for everyone, while at the same time driving them to rethink processes and systems that may have once worked well. Although your digital transformation vision should be deeply embedded into your own business objectives, we hope our Behind the Future series will give you some insights into the major critical success factors required for successful transformation.

Be the first to hear about the next Behind the Future episode when you sign up for our newsletter.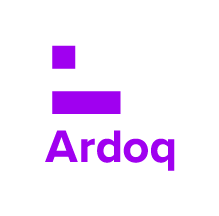 Ardoq
This article is written by "Ardoq" as it has multiple contributors, including subject matter experts.