Rapid digitalization is pushing organizations to reflect on and adjust their capabilities to survive, grow and thrive. As an Enterprise Architect (EA), you're familiar with the need for adjustments to adapt.
But as you make these adjustments:
How do you know whether you're heading in the right direction on your digital transformation journey?
How can you reach your milestones on time and prove your value?
Pave the Way to a Successful Digital Transformation Journey for Your Organization
Here are five tips that will help you not only embark, but also succeed on your digital transformation journey.
1. Visualize Your Business Landscape
In order to succeed in digital transformation, you need a clear view of your organization's as-is situation, where you can optimize your applications in order to cut costs, and see where you need to invest to reach your strategic goals. Depending on your plans, you might need to do Application Portfolio Management (APM) or Business Capability Modeling (BCM) to set a foundation for more complex change projects.
With APM, you can visualize your documented applications and IT systems in several areas. APM gives you a holistic view of applications, both those that would affect or assist the goals but also those that could involve risks. Using landscape visualizations, processes can likewise be managed, both in a technical but also in a strategic way. Business stakeholders can see or create a full overview of any application-specific landscape, its risks, and capability gaps, thereby navigating it.
Knowing lifecycles and business capabilities helps you have an overview of your digital architecture so you can assess your vulnerabilities, see the impacts of initiatives, manage dependencies and set the right expectations.
Having this strategic overview helps you locate the gaps in your current architecture. Try asking these questions:
Who in the organization is responsible for the critical

capabilities

?
What processes have been fully digitalized?
What processes should we automate?
What is the current

application portfolio?

Where should we cut?
Where should we invest?
The answers to these questions will help you see the big picture and confidently predict the possible impacts change will have on the business processes. This empowers you to mitigate inevitable problems and set the right level of expectations with your stakeholders.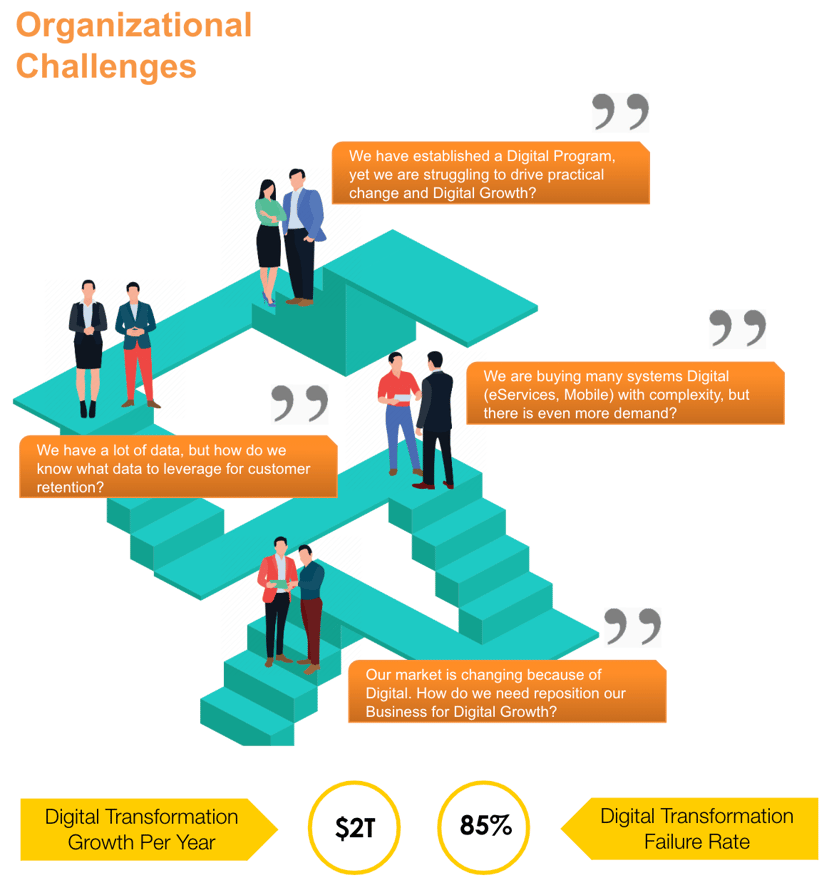 2. Begin With Clear Business Objectives
Companies are constantly being pushed to try the latest go-to-cloud strategies and new systems that promise they will "automatically" provide you with increased profit, operational efficiencies, and pretty much anything your IT heart desires. Unfortunately, in reality, these reactive digital change projects tend to go over time and lack a clear ROI.
It is crucial to begin with clear objectives for your change and how it connects to the bigger business strategy. Then to build an ROI case around this change, you look at the cost drivers that this change will impact. Anchoring your change project in clear business metrics will help ground your change efforts and set a way to measure your success. Learn how you can embrace change in business and develop your own ROI business case.
3. Understand Current and Future Risk
Digital transformation projects bring about change on all levels, often with the biggest challenges hiding in plain sight - e.g., dependencies across functions, technology, processes, people, and locations. Even an overview of vendors and how they deliver value can be a hustle.
The up-to-date digital architecture enables you to know your risks and therefore prepare accordingly to reduce them. The key to success is organizational agility, which means being able to quickly understand the risks being introduced and the impact digital initiatives have on their value chain. Once you have an accurate understanding of what you're up against, your organization can respond and manage by bringing in the right tools at the right time.
4. Engage the Entire Company
When risk is well-managed and proactively dealt with, you can begin to use your resources to work smarter and see how to better align your whole organization with the overarching strategy and direction.
They cannot be something that is merely said and worked upon by the management, in monthly management seminars; they need to be communicated across the entire company. Ardoq's customers call it "absolute workplace transparency" across all hierarchical levels, as they know that employees are the lifeforce of an organization. They are the ones with the technical experience and expertise that will help pave the steps forward.
Businesses recognize this, hence the rise of new decision-making structures that empower cross-functional product teams and aid cross-organizational collaboration. Leveraging the expert know-how in your organization effectively is critical to staying adaptable, relevant, and competitive.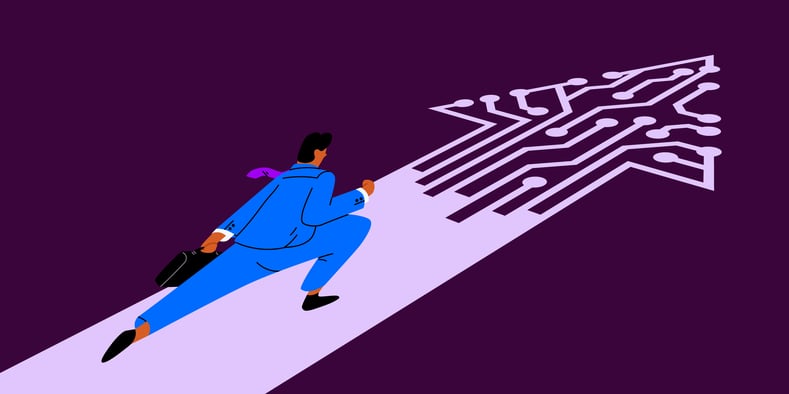 5. Really Know and Use Your Resources
You should also consider your strategy for bringing in experts with the skill sets necessary for your organization on your digital transformation journey.
According to PMI, there's been a 27% decrease in wasted money due to poor project performance since 2013. The reason? Successful organizations "ensure that their project and program managers have the right skills to drive and navigate change in this dynamic environment."
In their 2020 pre-pandemic report, PMI found that leaders are less focused on "change" but instead rebuilding to make agility and creativity part of the organizational DNA. More than half (53%) of organizations place a high priority on building a culture receptive to change.
Smarter Hiring for Better Investment
When talking about transformation-specific roles, it can be everything from leaders taking on individual initiatives, as well as people from program management to transformation offices who are dedicated to change efforts full-time.
Our customers understand that digitalization, automation, and other technologies are impacting the workforce as they know it and that they need to invest and hire for radically different skills and capabilities - though understanding which skills and capabilities can be difficult.
People Can Bridge the Gap
Having open communication between traditional and forward-thinking parts of the business is just as important for success. When people function as integrators, technology-innovation managers can foster stronger internal capabilities among colleagues, making sure new digital methods and processes are integrated smoothly into existing ways of working.
The same goes for the link between business and IT. These integrators might have experience from the business side while also understanding the technical requirements and gains that technology brings along.
Quick Takeaways on Optimizing Your Digital Transformation Journey
Get a clear picture of the ground you stand on to assess the impact of short and long-term decisions
Have clear objectives and build a clear ROI case for change projects
Be aware of your gaps, vulnerabilities, and risks
Assemble a digital transformation master plan before embarking on digital change projects
Maximize your resources and bring in the right expertise at the right time
Find out more about how Ardoq can help optimize your organization's digital transformation journey.👇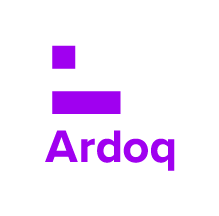 Ardoq
This article is written by "Ardoq" as it has multiple contributors, including subject matter experts.