Technology provides the infrastructure of every industry, from the obvious - your phone - to the hidden - the beverages you drink.
Walter Hannemann, Global Enterprise Architect at Carlsberg, knows a great deal about the technology behind beverages, specifically beer brewed by Carlsberg.
In his own words, Walter said, "I've been around since the internet was invented … that allows you to try a lot of different things. And, if you survive, then you have all those stories to tell." His story includes working in the intersection between business and IT: running companies, building startups, working in the shipping industry, and solving problems, "the bigger and the hairier, the better." Carlsberg is his first experience in consumer goods (CPG.)
When Walter arrived, Carlsberg's digital journey was well underway. They had already started:
Internal development of their tools
Digital workplace
They had also started working on smart breweries, kegs with sensors alerting when to order more beer, and cybersecurity to lessen the risk exposure of the additional digital assets.
Naturally, the company also uses digital tools to gather data and run analytics to understand the impact of all this digital change.
While there have been different Enterprise Architecture (EA) journeys at Carlsberg, Walter joined in April 2021, and his story starts there. The current incarnation of their Enterprise Architecture started perhaps over 2 years ago before Walter joined. But, he said, "We did a very good job in our cloud migration journey. We moved everything we could to the cloud, and are recognized as one of the leading companies in that journey."
"You don't want a digital beer, right? We don't have a digital product or service. Digital for Carlsberg is how we operate, how we have relationships with our internal people, our customers, and the consumers." - Walter Hannemann
Carlsberg's Digital Journey as They Grow
Over time, Carlsberg has had many different companies joining their group, companies that came with their own IT landscape. A critical area of focus is Enterprise Resource Planning (ERP). As Carlsberg grew, the group had a large combination of different ERPs in different markets used in different ways.
The ERPs needed upgrading in 5 - 10 years. Carlsberg wanted to upgrade to avoid the mistakes they'd seen happening in the previous years in other places, resulting in very complex and expensive deployments.
Rather than using the traditional deployment model, Carlsberg looked at ERP as a completely different animal, making a conceptual model using "next-generation architecture." For them, the next-gen involved looking into business capabilities that are bottom-of-the-stack commodities. The business capabilities can then be interpreted based on the various markets. For example, capabilities close to the customer and the company's markets. Finally, the ERPs have a data layer that connects all these factors. They decided to call the new project Smartcore.
For EAs, it was important to demonstrate to the business the value of what's happening and, at the same time, show everyone what's in it for them if they can share data with them. Walter outlined three ways they provide services that show their value.
1. Coordinate Information to Benefit Everyone
One solid demonstration of value was their new ERP replacement, Smartcore. The business leadership understood and related to it, so the concept is used successfully. However, minor things like the ongoing rationalization of the application landscape tend to be more complicated due to Carlsberg's size. In addition, so many of their companies and regions operate with a relatively high degree of freedom. As a result, the EA team needed to connect with them differently beyond a conceptual model.
The Enterprise Architecture team improved their knowledge about the existing landscape to create a relationship offering something that each team needed. For example, the EA teams continually work with the IT security team to conduct a business impact analysis with a process, system, and repository for the information.
Walter said, "We help them coordinate their information, ensuring that we can benefit from the effort they're doing, the more applications they discover what they use it for and stuff like that. We end up finding applications that we didn't know about before. We all know how it is today; some people get a credit card or even a freemium version of the software, a service application somewhere in the world. They'll use it, and you're never going to hear about it unless you start engaging with people."
2. Engage and Understand Problems and Challenges
Sometimes people come to the EA team with specific needs or have specific solutions, and the team doesn't understand the problem. Walter said, "It's important for us to understand their goals. That means taking the time to ask questions and listen."
Walter thinks the first part is engagement, and the second part is ensuring that EA aligns with other initiatives. If they work together, everyone benefits. The EA team helps them achieve this by providing a framework or an overview of how things work.
3. Speak the Language of Your Audience
Walter finds explaining enterprise architecture can be a challenge. While the enterprise architects understand EA's value, it's tough to explain to others. "You never know when people are going to get tired of us telling them how things should work," Walter said.
One method of reaching stakeholders is to use a business language your audience understands. For example: to an accountant, talk about invoicing. Compare two processes that change leads to overtime in the overview of different geographies and systems. In a way, it's simply a classification of what you have and what you do and combining them into a box that people can see.
All the technology and all the complexity behind it? That's for the more technical people. Instead, focus on telling a story they can understand and relate to.
Becoming Agile in a Shifting Marketplace
When the pandemic hit and bars closed, Carlsberg shifted from selling beer to bars to supermarket sales. First, they had to understand how the business worked and prepare suitable strategies for each region to make that shift. As priorities changed, Carlsberg adopted a more agile approach.
Walter offered some additional advice for being agile and prepared for change:
Be open to trends, try to understand what's happening around you in your company and beyond
Dig into issues that arise and document when they come, how you handle them, and how you direct and document the technical side
Listen to who is paying the bills and help them see how Enterprise Architecture gives the overview needed to do what they want
Be very curious and open to reality and factors affecting the business
Understand underlying data is needed to keep the company agile as priorities change
Be prepared to flex your model for a different perspective to answer questions that might come from leadership
Watch Carlsberg's Digital Journey with Enterprise Architecture on YouTube to listen to our full conversation with Walter.
Be the first to hear about the next Behind the Future episode and sign up for our newsletter.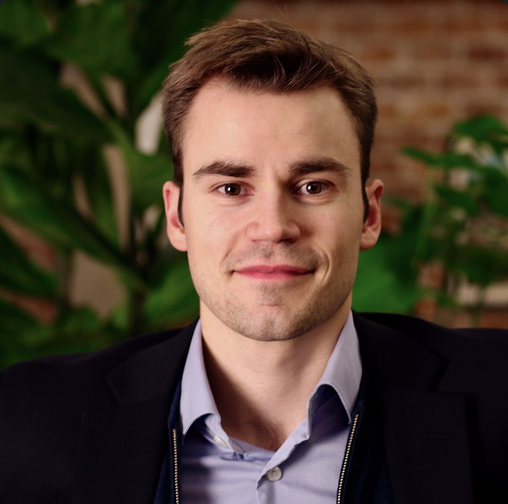 Henrik Holth
Account Executive Henrik loves tech, and feels passionate about people and their stories. He loves to uncover learnings from Digital Transformation leaders.