All customer stories
Boosting Digital Agility to Better the Lives of Residents
Improved digital agility and reactivity to the needs of residents
Bridging the gap between the people and administration
Strengthening security
Push Factors
Why Digitalize?
Digitalization and driving better cooperation among the municipalities and state is a top priority in Norway. To this end, the government has set a multi-year strategy for the public sector titled "Én digital offentlig sektor" (One Digital Public Sector) which sets two key goals for digital transformation:
Create a better digital everyday life for all residents
Contribute to more effective public sector
Askøy Municipality is one of 429 municipalities in Norway that find themselves needing a way to increase transparency, inclusivity, and digital agility of their operations.
But how to achieve this?
Challenge
Poor Productivity and Control Over Data
On the ground, Askøy Municipality were struggling with many of the same challenges that plague legacy companies and public sector organizations.
Manual processes and static documents: Like much of the public sector, compliance and security are top priorities. They were subject to frequent audits to ensure accountability. This was painful and time-consuming because documentation was spread out over different static spreadsheets and contributors. They did not have good system for version control. Static Excel files and drawings in Visio also meant a lot of time spent on documentation that quickly went out of date.
No clear overview of the technological landscape: They lacked a system to effectively collate or distribute the correct information at the right time to the relevant people. This meant that decisions in IT or investment could not be made with the best information possible. It was also impossible to know who all the practical stakeholders were for a given project, such as changing out a specific system.
Lacked readiness in case of critical system failure: Municipalities are responsible for delivering many critical services to residents but without a clear overview of their IT landscape, they could not see the true impact of service failure and prepare appropriate, effective response plans.
Approach
How Ardoq Helped Them Take Control of their IT and Data
Ardoq empowers Askøy Municipality to digitalize in earnest, giving them a dynamic, data-driven way to get the overview they desperately needed and begin to shift resources from manual maintenance to value creation for the community.
1 . An Actionable Understanding of Their Architecture
Ardoq's package of crowdsourcing features such as Surveys and Broadcasts and out-of-the-box best practices for different use cases helped them to quickly get an overview together. Ardoq's integration with Power BI, a key tool for their organization, also enables data and insights to be socialized more easily in a platform they already use. The difference now is that they can tailor presentations of their data to whatever level of granularity required and cater to different audiences more easily.
2. Strengthening Security
Ardoq has helped liberate them from numerous manual processes, especially when it comes to security and compliance such as for GDPR. It allows them to conduct comprehensive risk analysis, identify critical systems, and have appropriate response plans in case of service failure for these systems. The process is more efficient and less time-consuming using Ardoq's crowdsourcing capabilities.
3. Aiding Prioritization and Connecting Initiatives with The Needs of Residents
Askøy Municipality formulated their own approach to strategic planning in Ardoq. They implemented their Objectives and Key Results (OKRs) in the platform and then connected projects directly to bigger organizational goals, ensuring alignment in execution.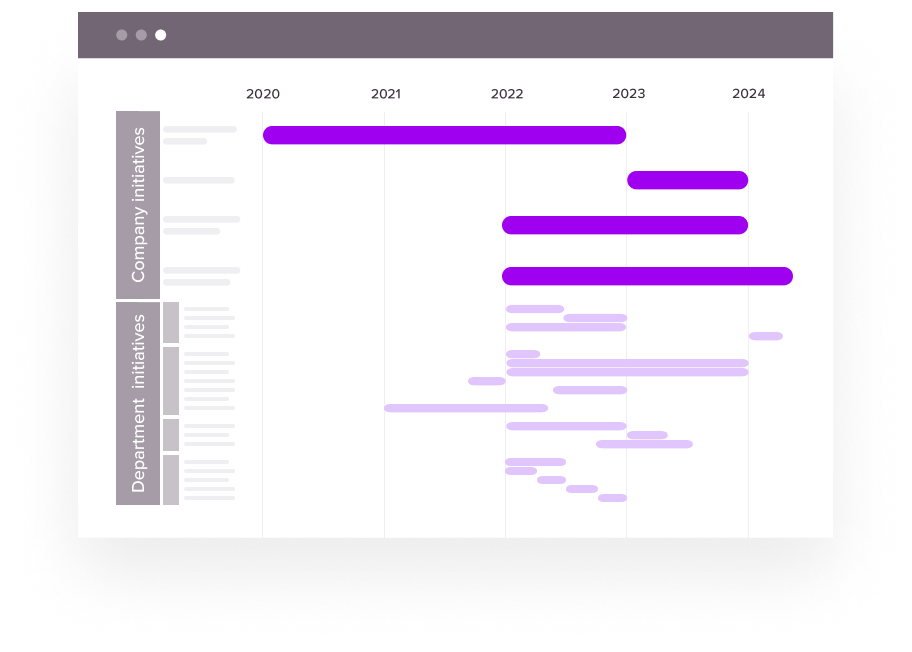 Growing digital competency is one example of an overarching goal many municipalities need to work towards. That can be set up as one of their objectives, with key results mapped out against it and management giving final approval. Initiatives can then be planned and prioritized toward achieving those key results. Regular evaluation helps them track progress and maintain alignment of digitalization strategy, activities, and the organization's goals.

This progressive, dynamic use of Enterprise Architecture's overview helps them move beyond technological management, be more reactive to the needs of residents and enable strategy at both high and low levels.
"Arkadi & Askøy Kommune have never let Enterprise Architecture be a theoretical exercise. They constantly keep in mind the practical applications. They're an amazing example of how, after having created a comprehensive overview of the organization, this can then be used to manage the Enterprise, with a range of purposes, from reducing risks and costs to improving compliance controls, and alignment on organizational strategy and initiatives."

Amrik Soar
Customer Success Manager, Ardoq
Benefits
Key Outcomes With Ardoq
For the IT organization:
More effective spending on IT, able to spot cost-saving opportunities when replacing outdated or underperforming systems
Greater transparency over systems and better control over the impact of potential downtime
Being able to account for critical integrations beforehand means procuring new systems or applications is quicker and more cost-effective
Enhanced collaboration and communication over architectural changes

For the rest of the municipality:
Data-driven overview of how people, applications, infrastructure and capabilities are connected, helping them get a better understanding of change impact not just from IT perspective
More efficient GDPR compliance management with a new, flexible system for the registration and maintenance of records of processing activities
Easier socializing of data and information on compliance gaps to different departments
Improved alignment and digital agility as a municipality
Digitalization and progress has positioned them as a leader to inspire and drive scalable digital transformation for other municipalities
Looking Forward
Askøy Municipality's looking forward to getting even better control over their data and security through Data Lineage as a response to new EU directives on compliance.

They're also part of Ardoq's municipality sandbox, where municipalities can share their approaches in Ardoq for various use cases. This means that they could co-develop an approach to compliance concerns such as this one that any municipality can duplicate and deploy. With their applications and people mapped in Ardoq, they're also looking to dive deeper into their processes and evaluate process maturity, which could help guide or justify future investments in the municipality.
Askøy Municipality have put people at the center of their sociotechnical architecture. While many organizations are working on socializing the architecture within the organization and engaging internal stakeholders, Askøy's incorporating the needs of residents outside their organization within the big picture. They're using their newfound digital agility to work towards a new level of traceability in the public sector, making everything they do trackable back to a clear community need to better serve their people.
About Askøy Kommune
One of 429 municipalities in Norway,
Askøy Municipality
services almost 30,000 residents in aspects spanning from healthcare, education, housing, culture, environmental considerations, and much more. Their key driver is the need for greater digital agility to better meet the needs of their residents, aligning with the six-year national digitalization strategy set by the Norwegian government in 2019.