Every year presents new challenges. In 2021, we all experienced living through the second year of a pandemic. Despite these hard times, we have been heartened by how our fellow Ardoqians and customers have risen to new challenges. It is with gratitude and great pride that we celebrate our successes and the people that made them happen - our employees, our loyal customers, our faithful followers (online and offline), and especially you, our discerning reader. Thank you all.
525,600 Ardoqian Minutes
Our diversity makes us an exceptionally creative and talented group. We started December 2020 with 81 people. Fueled by our rapidly expanding client list, we've scaled to a group of 150 Ardoqians across 31 nationalities. Many new colleagues are already set to join us in Q1 2022.
We formed new teams and found new leaders to help us steer them. Duane Kotsen, our VP of Customer Success & Services, brings over 25 years of global experience in diverse software technology companies to Ardoq. Jason Baragry, our Chief Enterprise Architect, researches Enterprise Architecture (EA) and sets our directive for progressive EA. We also have a dedicated security team led by Chief Information Security Officer Nick Murison to ensure that all our dealings, internal and external, are secure.
What Ardoq's Year in Review 2021 Is All About
A little-known tidbit about us is that every week we all come together, near and far, to share and celebrate our wins. It could be anything from a newly sealed deal to a heartening email from a happy customer or an Ardoqian bundle of joy saying "Hello, World!" After 52 weeks of many happy wins, here are the ones we're most proud of.
2,096,355 Acts of Engineering -- That Means 5,743.44 Every. Day.
Our Engineering team lives in 6 different cities spread across 8 countries. From 1 December 2020 to 1 December 2021, our Engineering superstars have:
Squashed 960 Bugs
Deployed 2,955 Releases
Recorded 6,965 Commits (individual changes to code)
Worked with 2,085,486 lines of code, increasing capabilities and reducing the size of the codebase
Our engineers begin their regular stand-up meetings with a check-in question or icebreaker. They've now learned more than 200 facts about each other, soundly beating the stereotype of the introverted, asocial engineer.
5 A-Z Use Case Guides
We prioritize supporting customers at every step of their digital transformation journey. To help them cover key areas of concern and focus, we have developed 5 comprehensive guides in 2021, led by our dedicated Enterprise Architects in Team Amplify.
These guides follow our best-practice approach to solving specific EA business problems. Each guide includes prebuilt assets on Ardoq to help customers swiftly and efficiently realize tangible value in their organizations. Here are our most popular three.
Business Capability Modeling & Business Capability Realization
Add business context to your change process by connecting systems, processes, and people to identify cost-saving opportunities and minimize risk.
Technical Capability Modeling
Get an overview of the current technical capabilities in your organization, the respective capability experts, and the maturity of these capabilities. This overview helps improve your organizational structure after a merger and acquisition (M&A) or aid alignment of strategy with your project portfolio.
Application Lifecycle Management & IT Lifecycle Management
Document your IT systems and proactively manage your application landscape. You can then manage low-value IT systems out of your estate, freeing up the budget and resources needed to drive strategy forward while working towards future goals.
100% Support (And Then Some)
Our Operations department worked double-time this year. Their achievements include:
Establishing distinct departments for People & Organization, IT, and Security within Operations, and spun-out departments for Revenue Operations and Customer Support to ensure proper organizational focus, support, and strategy in each area
Accrediting our Ardoq Platform on the SOC 2 Type II standard
Implementing new Talent Acquisition, People, and Organizational support programs
Supporting Ardoqians through an incredible 70% growth across all teams
Aligning Ardoqians at the company and department level, leveraging Objectives and Key Results (OKRs)
All of us Ardoqians are grateful for their support, from the small details of a recruitment process to the huge task of ensuring we are all up to date on critical IT security standards.

200 Customers and Counting
There are now over 200 businesses using Ardoq all over the world!
Our Customer Success Team also grew by an impressive 75% to support this. We now have 7 Customer Success Managers (CSMs) based in the USA, UK, and Norway. These CSMs include an actress, an exotic fish aquarium hobbyist, and a polyglot.
We're thrilled to be working with some great customers, some of whom have generously shared their experiences of how they have been using Ardoq for their EA initiatives, including:
STIHL's IT Team Prove the ROI

by Adopting Enterprise Architecture
Premier Tech:

Meeting Strategic Goals and Building Stakeholder Trust

Advancing TINE's Digital Transformation

Initiatives with Dynamic Data Models
The team also saw personal successes. Hana Wright was promoted to Manager of Customer Success for North America, and Pia Roland, Director of Customer Success, officially became the SaaSiest Woman in the Nordics 2021.
Over 50 Features Released
Throughout 2021, our Product team worked to make Ardoq even more powerful, developing new features and improving our existing functionality. Over the year, the team shipped over 50 features. Check out these highlights:
Broadcasts helps you to reach the right people across your organization at the right time. Using Broadcasts, you can send automated reminders or surveys and get the data you need, crowdsourcing for your data repository - meaning you can seamlessly keep your data up to date. Architecture data can then be created and sent via tailored reports to your stakeholders, with people alerted when changes are likely to impact them.
Scenarios Data & Metamodel Merge workflows
Back in 2020, we introduced Scenarios, a completely separate space with the latest data from your production environment (mainline data) where you can safely model multiple potential future states in Ardoq. This year we added the Data and Metamodel Merge workflows for a faster, smoother Scenarios experience. If you're interested in seeing Scenarios in action, book a demo.
Stay tuned for what our Product team produces in 2022.
200% Growth in DevOps Team
Our Development Operations (DevOps) team manages our cloud infrastructure, ensuring everything remains stable, reliable, scalable, and secure – in addition to supporting developers and the Quality Assurance (QA) team. In 12 months, they grew from 1 to a team of 3 people working from 2 continents. They've accomplished a great deal this year - we've provided Ardoq-translation services for those of us who don't speak IT.
| | |
| --- | --- |
| Our DevOps team's version | Ardoq-translated version |
| A little more than a year ago, the DevOps team had a stable infrastructure stack running on EC2 instances in AWS. | Ardoq provided a stable platform through a year of transition. |
| Now the DevOps team has successfully migrated our Infrastructure as Code (IaC) stack to state-of-the-art cloud-native technologies like Terraform, Kubernetes managed by Helm, and GitOps practices to automatically deploy changes to multiple environments. | Now the DevOps team has created a stable and scalable platform, so our customers and prospects can use local data centers and cloud providers. |
9 Time Zones Covered by Our Dedicated Customer Support Team
12 months ago, our Support team was spread across different departments and entirely based in Norway. In 2021 we formed our first dedicated team of 3 motivated Technical Support Consultants, based in the Oslo office.
The team has also successfully started a group in the US. Now, someone's on call from 8 am in Oslo to 5 pm on the East Coast of the US or 3 pm on the West Coast, a great win for our customers and all of Ardoq's team members.
24 Ardoqians With Paws or Fins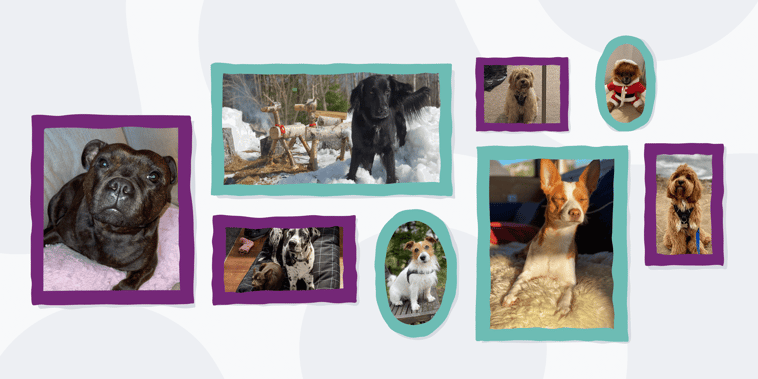 At the time of publishing this blog post, we have 150 Ardoqians. They are supported by a total of 14 cats, 15 dogs, 1 snake, and 1 fish.
In a year of hybrid work and ongoing pandemic-related stress, they've worked hard by providing some much-needed company for their humans. We salute them - without their support, our team would be less.
*When we took a pet poll, Ardoqians also reported sharing their homes with no less than 2 moose, 1 sloth, 1 bison, and 1 T-rex.

Over 100% Increase in Sales
2021 saw us welcome 18 new sales colleagues to our offices in Oslo, London, Copenhagen, and New York. With our dynamic new members, Sales have smashed every record from 2020.
Some secret sales team regional facts:
Our US sales team collaborates online as they are spread across the country (in no fewer than 7 states!), while the Copenhagen sales team is enjoying new downtown premises.
Our UK sales team's office has Crumpet, the happy puppy who spreads office joy and keeps everyone running – while in the Oslo office, everyone is supervised by the managing Pomeranian canine, aptly named Putin.
We're looking forward to seeing Sales crush new records in 2022!
200% Growth in Marketing Team
Marketing started 2021 as a team of 4 and ends this year as a team of 12 - a massive 200% growth. Our team now includes dedicated design, web, project management, social media, and content support.
We had many firsts and successes including:
10x Growth in Partner Pipeline
2021 saw our Partner team officially launch Ardoq's Partner Channel and Partner Affinity Program. Up until Q4, the Partner team solely operated from our Oslo HQ. A big step has been recruiting 2 new US-based team members: Ryan Sigler (Partner Account Manager) and Patrick Girasole (Partner Solution Specialist). This growth has helped our Partner team deliver several big wins in 2021:
A 10-fold growth in our Partner sales pipeline
87 of our partner consultants from across the globe are now 100% Ardoq Fundamentals-certified
We did our first-ever on-site Partner training session for Atea Sverige, helping them deepen their understanding of EA and Ardoq
2022 promises to be an even bigger year for our growing team, so stay tuned to see what comes next.
6 Magical Recommendations
Last but not least, Ardoq was recognized by world-leading consultancy firms Gartner® and Forrester Wave™, achieving fantastic results in:
Thank you for joining us to celebrate Ardoq's Year in Review 2021. We hope you enjoyed reading about them as much as we enjoyed looking back on a year's worth of hard-earned wins. Join us in December 2022 for our next edition!
If you would like more insightful news, views, and opinions from us, do subscribe to our Digital Transformation Newsletter.
Erik Bakstad is co-founder and CEO at Ardoq. He has been recognized for his deep and broad technological experience throughout his professional career as a developer, SaaS product architect, tech evangelist, and practitioner.