Enterprise Architects (EAs) are increasingly bringing insight into the process of shaping and aligning change projects.
The ability to build models and use those models to drive actionable insight can play an essential role in the shaping of strategy and the projects that execute it.
In short, EAs are helping answer the timely question that whole consulting organizations have been built around: "Why do our best-run projects still fail to meet their strategic goals?"
The above question is what whole consulting industries have been built upon, and which Enterprise Architects can now poise themselves to bring insight to. Learn how with this guide on how to Confidently Align Strategy and Execution using Enterprise Architecture.
4 Critical Questions for Aligning Strategic Planning With Execution Using Enterprise Architecture
As with all our Use Cases module, we aim to build around the most common and critical business questions that you most likely want to answer.
Starting with these questions keeps the focus on the value to deliver, not the meta-model, not the Enterprise Architecture framework, not our bad habits.
For the Strategic Planning and Execution case, we started with these first four questions:
What are the strategic objectives of our company?
What projects realize the strategic objectives, and when will these be delivered?
Who is responsible for the most critical projects, and what are these impacting?
What are the potential conflicts in the projects we are running?
The ability to answer these gives an essential foundation for building the bridge between strategy and your enterprise architecture.
Below we'll take you through each question, why it's so important and, who in your organization they are most relevant for.


What are the strategic objectives of our company?
This first question is the essential foundational requirement for most analyses regarding strategic alignment.
The key takeaway here is that without your objectives adequately mapped, you will have a hard time evaluating the validity of your projects and their alignment with your overall strategy.
Answering this question requires collaboration between those defining the strategy and those delivering on the strategic projects.
You need your objectives to be clear and understandable as they are the key to measuring whether or not you are delivering on your strategy.
Without the objectives, there is no proof as to whether you are actually delivering on your strategy.
Screenshot of a living presentation showing projects nested within their associated objectives and strategies.
What Projects Realize the Strategic Objectives, and When Will These Be Delivered?
Once you have the first strategic objectives mapped out, you need to involve Project Managers to connect the projects with their objectives and update necessary data.
Doing this gives the PM team a better understanding of what the organization hopes to achieve. Communication is the first step to alignment.
Increasing engagement early also builds the necessary support to collect and maintain your architecture. You can't keep a quality overview or improve organization-wide alignment if you are working alone.
Involving the PM team with the use of tools like our predefined surveys, you can quickly capture important information like delivery dates, budget, and the objectives of the projects without asking them to learn your specialized tooling or frameworks.
Once this data is collected, producing the reporting and dashboards necessary is the next step in increasing visibility and alignment.
Dashboards or visualizations highlighting which projects are critical and when they are due to be completed are likely the first type of project "pulse" most managers are most interested in.
Timeline visualization with all projects grouped under their objectives and related strategies.
Who Is Responsible for the Most Critical Projects, and What Are These Impacting?
One of the biggest challenges in complex project management is understanding impact.
The Strategic Planning and Execution looks at the impact from two perspectives, the people (the experts and those responsible) and the rest of your architecture.
Including people in the scope of strategic planning and execution allows you to:
Maintain an overview of responsibility
Understand potential impacts on delivery due to bottlenecks with understaffed projects
Improve communication and collaboration by bringing awareness to the experts and owners impacted by the change
Considering the criticality of projects can be done in any number of ways. One way which we suggest as a starting point is to consider the strategic impact and complexity of delivery.
These are attributes which you can collect from the wider organization as part of your collaboration and engagement with the PMO and business owners.
Bubble chart placing projects based on their attributed Complexity and Strategic Impact.
The second way of considering criticality and impact is by the relationships between projects, their strategies, and the rest of the architecture.
You don't have to connect your projects to what they impact, but we recommend that you add more value to your overview by including either our Application Portfolio Mapping or Businsess Capability Modeling best practices.
All of Ardoq's best practices can be connected without extensive configuration.
Connecting these Ardoq use cases modules gives you the ability to organically build out with greater detail your Enterprise Architecture with every new project.
Typically speaking, if you are starting with your Strategy as the driver to building out your Enterprise Architecture, then by this point, you will be looking for collaboration and automation opportunities to build out your Application Portfolio or Business Capability Map.
It is not uncommon for each project to run a mapping phase early on. If you can start to bring that data into a shared repository, you will quickly have a growing level of detail and understanding of both the impact of change from each of your projects and your architecture as a whole.
What Are the Potential Conflicts in the Projects We Are Running?
Organizations with large project portfolios are not unfamiliar with the challenge of having multiple projects impacting shared parts of the architecture.
These types of conflicts can be extremely costly if they are not recognized early.
There is nothing worse than aiming at a moving target, especially if you were unaware of its movement in the first place.
We often see that project and architecture documentation are static, not connected, and rarely visible to the broader organization.

So it's not uncommon for PMs to do the initial impact analysis, get started, to then find another team in a different part of the organization has made significant changes, which then challenges their initial assumptions.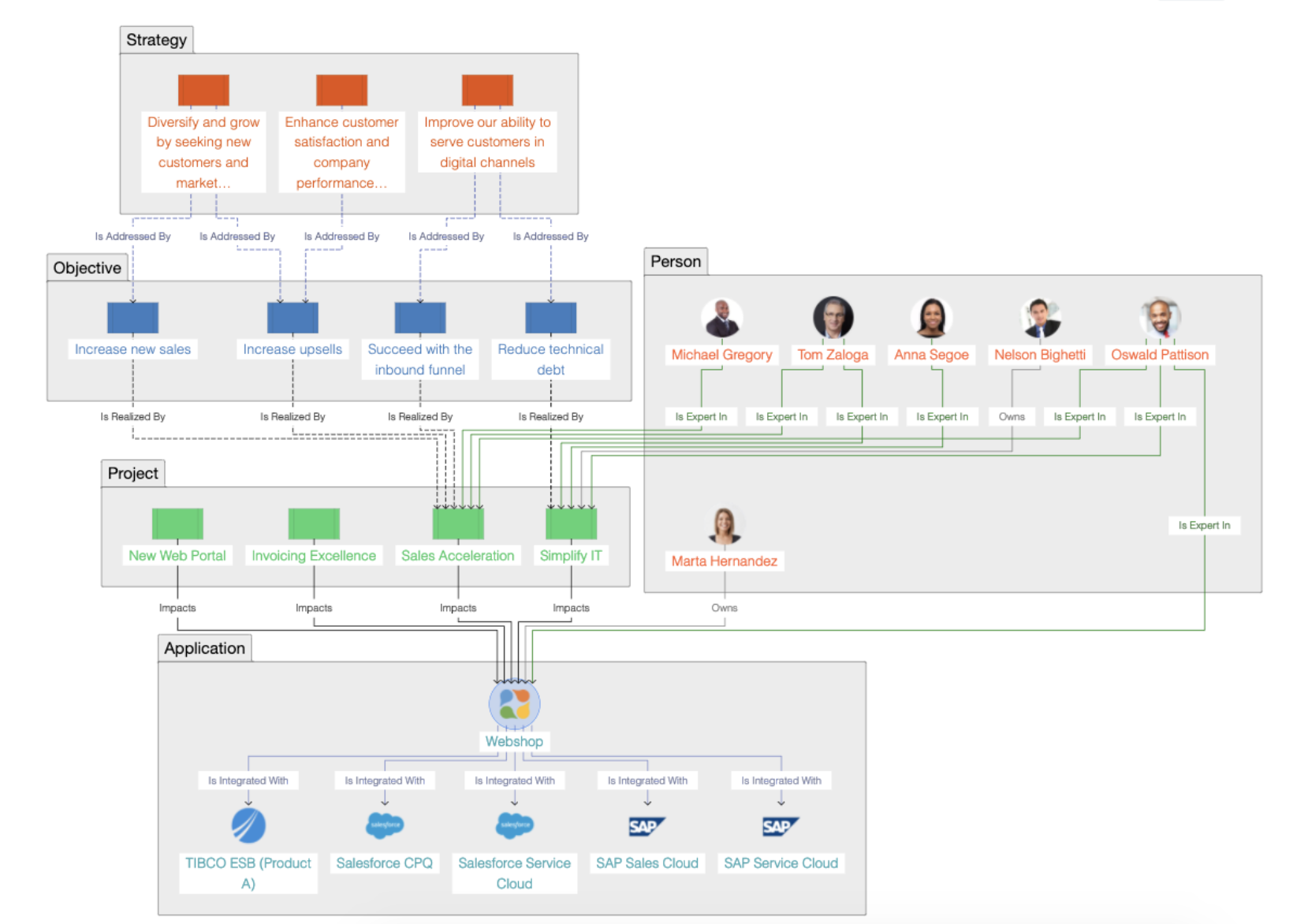 Block Diagram showing potential conflicting projects impacting the Webshop Application
Having one source of truth, which is collaborative, dynamic, and trustworthy, improves the quality of your conflict analysis, communication across teams, and overall delivery.
Get the full actionable how-to guide, written by industry experts: "Confidently Align Strategy and Execution With Enterprise Architecture."
Building on the Best Practice to Do Strategic Planning Using Enterprise Architecture
All of Ardoq's Use Cases build upon each other and utilize the flexibility and extendability of the platform.
With Ardoq, you are always able to expand, contract, and redefine your meta-model, on the fly, in-app without any development or consulting. All of the views, reports, and dashboards are fully configurable to match any tailoring you see fit so you can deliver business value for your organization.
Your Enterprise Architecture solution should enable you to not only answer today's questions but also give you the tools to answer tomorrow's.
Ian is Ardoq's VP of Product. A multi-talent, he's worked at Ardoq since 2014 and has built several teams across the company.