Input from Enterprise Architects (EAs) might not be the first step for business leaders when developing and executing their strategic plans. However, thanks to an EA's ability to bridge business areas, they increasingly bring invaluable insights to support business leaders during their strategic planning.
The current post-pandemic economic climate and ongoing sociopolitical uncertainty have created difficulties for even the largest organizations, meaning that making the right decisions has never been more critical. EAs can support here by providing insights to help business leaders to make smarter choices.
Enterprise Architecture to Help Answer Common Business Questions
Using new Enterprise Architecture (EA) approaches, EAs can build a holistic view of the entire business, creating transparency and breaking down information silos. This overview provides more detail into how different departments operate, helping an EA confidently answer business questions like "Why do our best-run projects still fail to meet their strategic goals?"
EA-derived insights into why projects fail to meet their goals can help guide strategic decision-makers at the executive level, such as the CIO (Chief Information Officer), by showing where potential cost savings or efficiencies might be made.
Critical Questions for Aligning Strategic Planning With Execution
Some critical business questions must be addressed to kick-start the strategic planning process. Answering these questions keeps the focus on delivering value instead of the meta-model or the Enterprise Architecture framework.
These critical questions are:
Where does the business stand today?
What are the strategic objectives of our company?
What projects realize these strategic objectives, and when will these be delivered?
Who is responsible for planning and executing the most critical projects, and what are these impacting?
Are we prepared to deal with organizational change?
What are the potential conflicts in the projects we are running?
Answering the above questions builds a strong foundation for aligning a business's strategy with its enterprise architecture. For example, "are we prepared for an economic downturn" is a question that many companies perhaps don't consider but one they should be able to answer by leveraging information provided by their EA.
1. Where Does the Business Stand Today?
The first step for many businesses is to establish an overview of where things stand regarding applications, vendors, and operational expenses (Opex). Using Application Portfolio Management (APM) helps a business create an overview of its applications and their owners. Mapping and connecting these applications to critical business capabilities and functions help determine which applications are must-haves and which could be removed. The result is a sleeker, more efficient application portfolio and better use of the IT budget - something that business leaders will appreciate, regardless of the economic climate.
2. What Are the Strategic Objectives of Our Company?
Organizations need to clearly define and map out their objectives and plan how to reach them. Determining these strategic objectives requires collaboration between those defining the strategy, such as decision-makers at the C-level, and those delivering on the strategic projects, such as the Project Managers (PMs). Clear objectives are vital for measuring whether or not a business is successfully delivering on its strategy. Without this plan, it becomes difficult to validate whether a project has succeeded and whether it's truly aligned with a business's overall strategy.
3. What Projects Realize the Strategic Objectives, and When Will These be Delivered?
After mapping out the strategic objectives, it's time for their execution. Project Managers (PMs) can help by connecting the projects with their objectives and updating the necessary data. Doing this allows the PM team to align with what the organization hopes to achieve and indicates how it will get there. Democratizing information across the business can support by helping to facilitate transparency and connectivity between departments. Encouraging colleagues to contribute their knowledge helps to maintain an up-to-date overview of the business while preventing the issue of storing information in disconnected silos.
The PM team can further contribute their expertise using tools like predefined Ardoq Surveys, which enable them to quickly capture important information like delivery dates, budget, and the objectives of the projects without asking them to learn specialized tooling or frameworks. Once this data is collected, producing the necessary reporting and sharing these via dashboards is the next step in increasing visibility and alignment.
EAs can then present these data-driven insights using visualizations accessible to anyone in the business. A feature like Ardoq Discover can help facilitate sharing these insights by enabling non-EAs to input their information in such a way that requires no specialist training. The resulting real-time, contextual detail can be translated into fast, easily digestible "pulse" information that can be shared throughout the business. Something that managers across an organization value as it helps answer business questions quickly.
4. Who Is Responsible for Planning and Executing the Most Critical Strategic Projects?
Understanding the success and effects of a business's strategy is often a challenge.
Ardoq's Strategic Planning and Execution Best Practice Guide looks at the impact from two perspectives, the people (the experts and those responsible) and the rest of the architecture. Making the right decisions at the right time and involving the right people in these decisions is critical for successful planning and execution. Including people in the scope of strategic planning means an EA can:
Maintain an overview of responsibility
Understand how bottlenecks from understaffed projects might impact delivery
Improve communication and collaboration by bringing awareness to the experts and owners affected by the change
Alongside determining who is integral to a project's planning and execution, appropriately ranking by their criticality is also necessary for their success. Projects can be ranked in any number of ways. A logical place to start is to consider the strategic impact and complexity of the delivery. These details can be harvested from the wider organization as part of the efforts to collaborate and engage with the project managers and business owners. Gathering such attributes gives the PM team a better understanding of what the organization hopes to achieve.
Another way to consider the criticality and impact of projects is to map the relationships between the projects, their strategies, and the rest of the architecture. Business Capability Modeling (BCM) uses relevant data to calculate the business model's risk, cost, and complexity by examining how systems, processes, and people are connected. BCM is particularly useful for determining which projects are the most critical. By mapping revenue streams towards the total costs of a business capability, BCM can help identify the business problems that are the most important to work on based on net profit. BCM also provides insights into investments in new assets that might increase performance or revenue streams' potential using shared infrastructure and its associated cost.
Strategic Planning and Execution to Prepare for Organizational Change
When planning for aligning strategy to execution, it's common practice for each project to run a mapping phase early. If the EA can bring this data into a shared repository from the start and perhaps add further insights through a module like Ardoq Discover, then the level of detail will quickly grow. Greater detail in the planning stages helps to enhance the understanding of the impact of change on each project and the business's architecture as a whole.

APM and BCM can help inform this process by determining which shared infrastructure needs to be carved out and which processes or persons to involve if questions remain. For instance, using APM and BCM can help plan how to enable integration instead of asking, "can we even do it?"
Strategic, data-driven insights are also crucial should a business need to tighten control over projects in more challenging economic times or plan for a more considerable organizational change, such as executing an M&A (mergers and acquisitions) project. When a company merges with another organization and can use data to show its plans and strategy, the negotiating position is more robust. The company can present a plan while the other party is still scrambling to find answers, thereby showing more value in a due diligence phase because the perceived risk is reduced ahead of merging.
5. What Are the Potential Conflicts in the Projects We Are Running?
Organizations with large project portfolios are familiar with the challenge of having multiple projects impacting shared parts of the architecture. These conflicts can be extremely costly if they aren't caught early. Unfortunately, project and architecture documentation is often static, disconnected, and rarely visible to the broader organization. As a result, it's not uncommon for PMs to do the initial impact analysis, get started, and then discover that another team in a different part of the organization has already made significant changes, challenging their initial assumptions.
Creating a single source of truth, which is collaborative, dynamic, and trustworthy, improves the quality of conflict analysis, cross-department and team communication, and overall delivery. New EA platforms like Ardoq offer EAs the tools to create this single source of truth, helping them create an automatically up-to-date view of IT, people, and processes, providing insights to help avoid conflict between projects.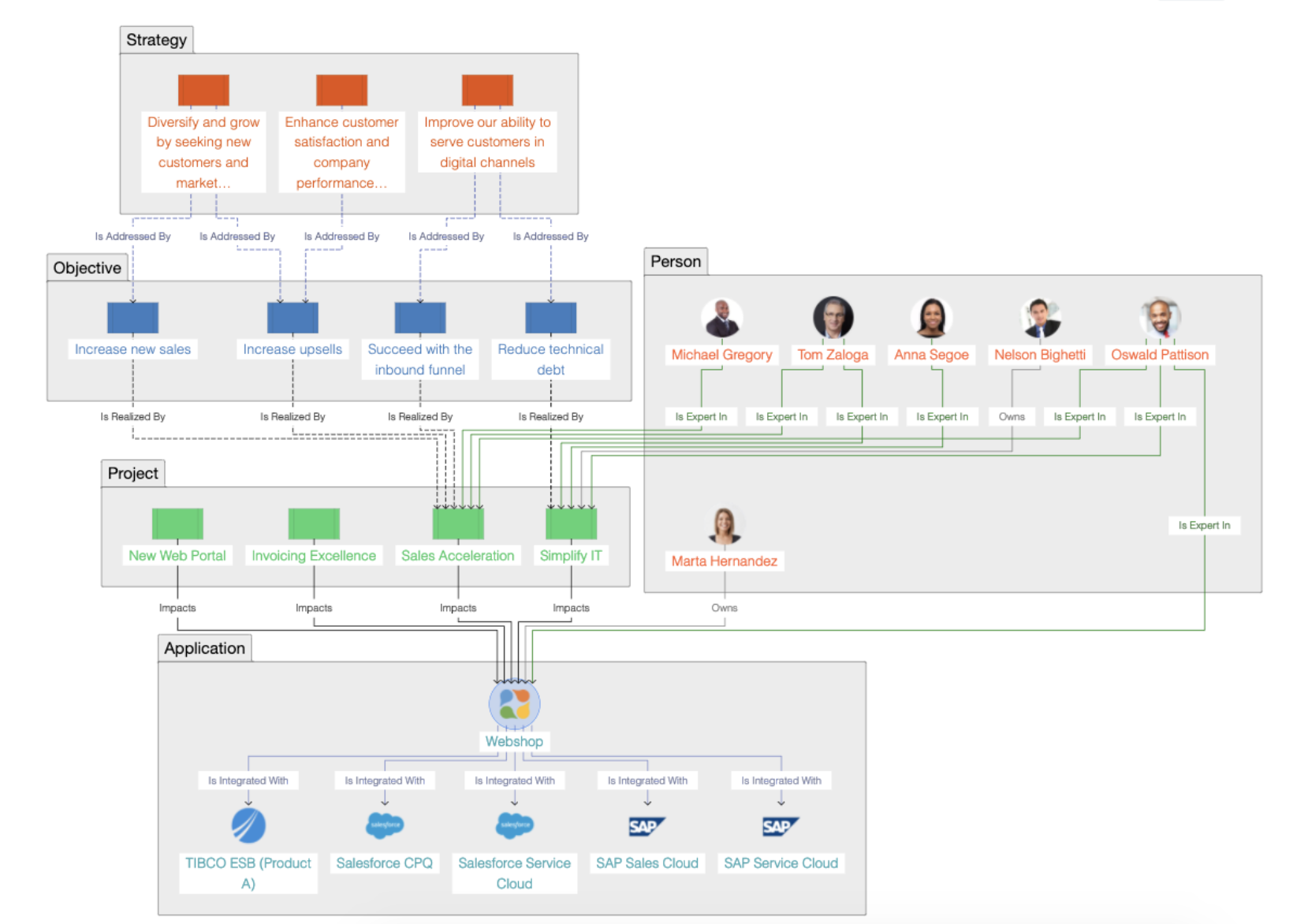 Building on Best Practice: EA to Support Strategic Planning to Execution
Enterprise Architects armed with new EA tools can support decision-makers by providing relevant and timely business insights in times of economic uncertainty, organizational change, or simply planning for a shift in business focus. In addition, answering the questions outlined above can help provide much-needed context for business leaders, particularly as they seek to create and execute solid strategic plans to navigate present and future complexities.
As a digital-native SaaS platform, Ardoq allows customers to expand, contract, and redefine their meta-model on the fly, in-app, and without any development or consulting. All the views, reports, and dashboards in Ardoq are fully configurable to match any tailoring to help EAs deliver business value for their entire organization. In addition, using Ardoq's Best Practice Guides supports EA in utilizing the flexibility and extendability of the Ardoq platform and leveraging the right insights to help business leaders in strategic planning and execution. An Enterprise Architecture solution should answer today's questions and give the relevant tools to answer tomorrow's.
Start making smarter decisions about planning and executing your business's strategy today. Download Ardoq's full actionable, how-to guide, written by industry experts.
Ian Stendera
Ian is Ardoq's VP of Product. A multi-talent, he's worked at Ardoq since 2014 and has built several teams across the company.