A common challenge many organizations face when kickstarting their Enterprise Architecture (EA) initiatives is how to drive change when their current state architecture is still a work in progress. How do you make confident, informed changes when you lack an overview of the architecture; and don't know the impact these changes will have on it?
Focus On What Matters
The best way to begin an EA maturity process is by getting an overview of the IT landscape. This process is also known as Application Portfolio Management (APM). From there, you can move on to other outcomes like delivering more effective change and benefit realization.
Creating automated and continuous methods for documenting the ever-changing landscape can take a long time, delaying the many benefits of improving the change process. However, you can start driving change and understanding the impact of change once you have documented enough data in the most relevant areas. You don't have to wait until the end of governance to start implementing and realizing value.
There are several ways to divide and conquer your data to document the most crucial elements of your architecture first. For instance, you can start by reducing the scope of your APM initiative and focusing only on the areas of your IT landscape that change the most, such as the systems that support customer engagement. That way, you can document enough of your IT ecosystem so that you can understand your current state architecture, identify opportunities for improvement, suggest changes, and analyze the impact of your changes.
Alternatively, you can let your change initiatives drive the prioritization of your APM documentation by making decisions about quantity. For instance, by deciding how much of the architecture landscape needs documentation for your cloud journey or how much is needed for a merger and acquisition initiative.
Change initiatives will trigger small, iterative, and incremental APM processes, namely Application Rationalization, Application Lifecycle Management, or IT Lifecycle Management, among others. These processes will allow you to identify and document the most relevant applications, infrastructure, and capabilities realization that will enable you to start the change process.
Understand the Impact of Change
Once the most important parts of your portfolio are captured, the next step is to understand how your changes affect your landscape and business. Architects face a great challenge when modeling both their current and future state architectures in the same environment: the As-Is blends together with the To-Be. How can you safely model changes without altering the data you just gathered?
Quality proposal visuals help EA's better understand the impact of change as it keeps the current state architecture intact to clearly differentiate the As-Is and the To-Be. There are many methods to achieve this, such as in-app tagging unapproved changes or using a sandbox or testing environment.
These ad-hoc approaches are a poor way of solving the problem, especially for large organizations needing better governance and control. It is difficult to deal with the As-Is and To-Be in the same tool. Internal processes and flagging changes require manual intervention and offer no change isolation. Without the proper approval workflow and messaging platform in place, it can lead to volatile data.
On the other hand, while sandbox environments provide full change isolation, there is the risk that you are basing your designs on out-of-date mainline data as the changes made in production are not immediately reflected. Moreover, some testing environments come without a merging functionality, which calls for manually replicating the changes in the mainline. Some others do include this functionality but may require all changes to be merged at once.
At Ardoq, we take a problem-solving approach based on collaborative code development. Our Scenarios tool allows you to keep your As-Is, or mainline data, untouched as you can select any part of the architecture and branch it. This creates a copy of your As-Is in a completely separate environment with the latest available mainline data to model changes and safely experiment. Scenarios can be planned for ongoing projects to build transition architectures, as an example, or for pure experimentation and simulation.
Once any changes or the project are completed, you can effortlessly update the As-Is by merging all or a few selected changes made in the scenario to the mainline.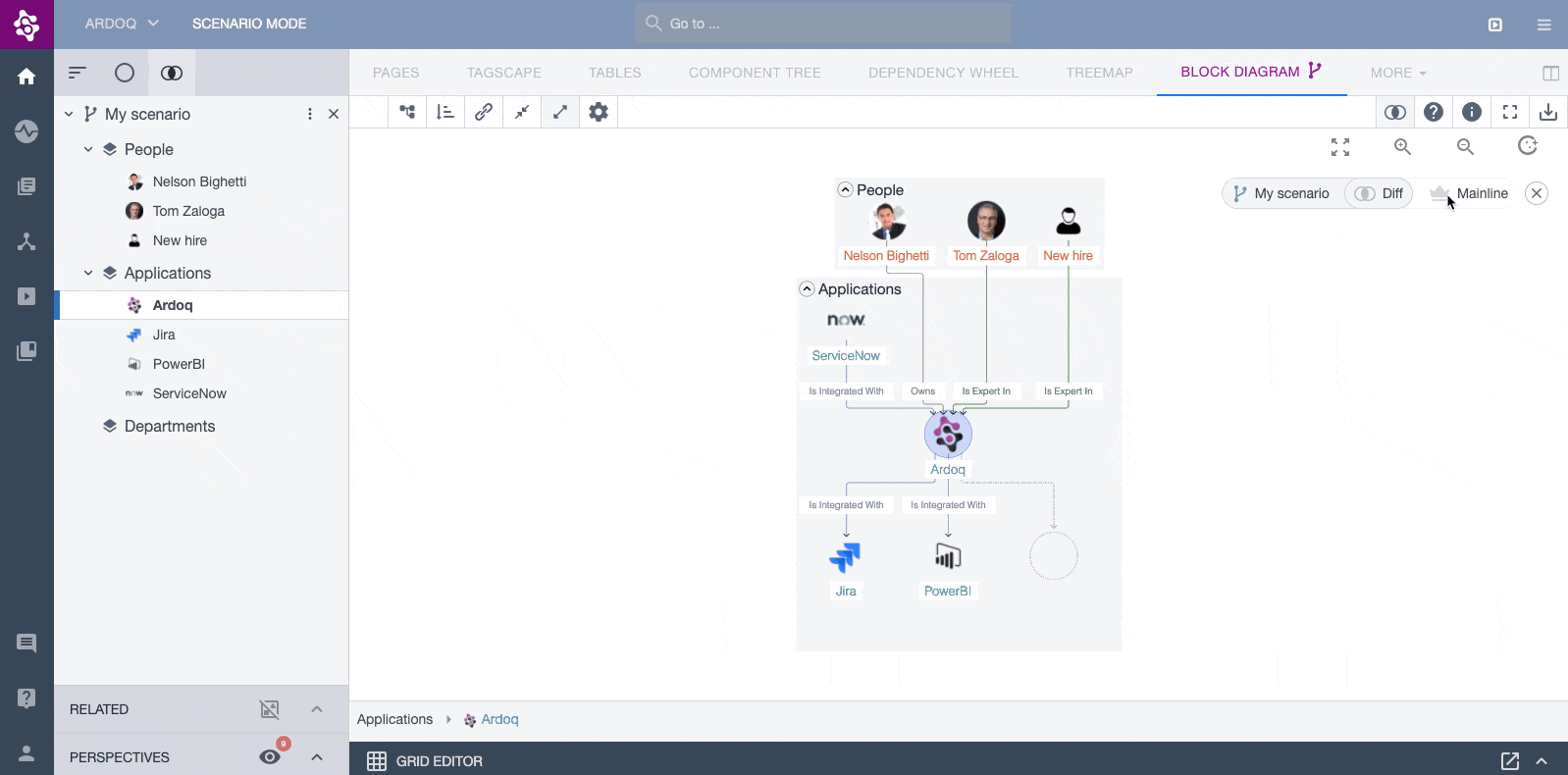 From here, you want to focus on the next priority group, identify the areas for improvement, and model the changes accordingly.
The Critical Element of Building your Current State Architecture
At the foundation of any Enterprise Architecture initiative lies documentation. It is the fundamental element for educated decisions about architecture changes. However, understanding the impact of change is the key to successfully transforming your architecture landscape into one that supports your business goals.
Ardoq's approach to Enterprise Architecture documentation and future state architecture modeling unlocks the power of quick and insightful analysis to deliver value; fast and early on.
If you would like to learn about Ardoq's approach to collaborative modeling, feel free to get in touch with us and ask us about our Scenarios tool.
Jacqueline has spent her career in the IT industry building brands and contributing to the development of products that deliver exceptional value to the customer experience. She is a double agent who advocates for both our customers and for Ardoq.