Metrics and analysis are at the heart of Application Portfolio Management (APM). After all, if you can't demonstrate how your IT simplification initiative will move the needle on business performance, why should your stakeholders care?
But that doesn't mean having more metrics necessarily equals having better insight. Too many application portfolio management solutions focus on producing numerous charts, metrics and key performance indicators with the result that they overwhelm their audience with a blizzard of data but offer little actionable intelligence.
Worse still, they can waste IT and business experts' valuable time in capturing dozens of irrelevant data points - data that in many cases ends up creating 'analysis paralysis', with IT leaders now too afraid to make any changes at all.
So sometimes less is more. Our own experience has shown that a few key and precisely-targeted insights yield far greater value. So for our APM package we focused on capturing only data that experience has shown to produce actionable understanding and to drive decisions. The result is maximum insight for minimum effort.

Our ability to show applications by the business and technical capabilities they deliver - and just how well they deliver them - translates your IT complexity story into simple language for your stakeholders; our standard calculations of application business and technical fit and cost show you where the opportunities are; our real-time visualizations show you the detailed impacts of any change; and our roadmaps show you exactly when plans will be executed and benefits realized.
Democratizing insight, orchestrating action
But the key to modern APM is not making a few big decisions, it's making lots of small ones. This means we have to provide those same insights for every stakeholder, every department, every capability, every vendor - and every combination of those. Across a whole application portfolio that's hundreds, perhaps thousands of views.
The power of Ardoq's context-driven, real-time visualizations is that they can produce the same analysis from every possible vantage point, putting each stakeholder's concerns at the center of the picture. It enables you to move from heavyweight architecture deliverables to a swarm of micro-analyses and roadmaps, continuously updated and precisely-targeted, while still supplying the oversight and assurance the program level needs.
Ardoq's approach to APM means you can drive value through successful, continuous change while minimizing risk.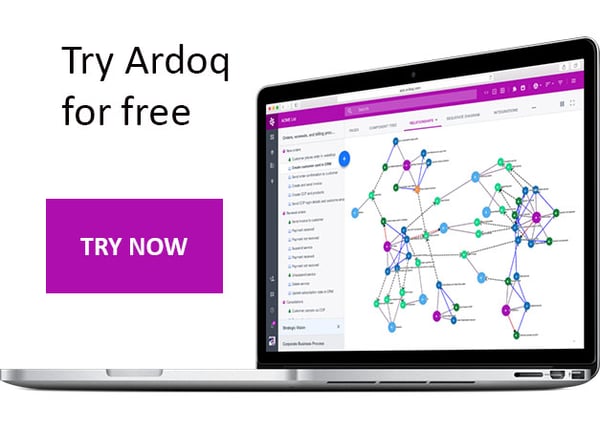 We would love to hear your own thoughts and experiences in these areas. Feel free to reach out at contact@ardoq.com or drop us a line on our Linkedin page.
Ed is the Product Strategist at Ardoq. With over 15 years' experience in the Enterprise Architecture industry, Ed's unique insight is instrumental in shaping the product roadmap and strategy for Ardoq. As a keen writer, you can find his name on much of the Ardoq material as well as the occasional screenplay. Ed is at the forefront of driving innovation in the company and has a strong belief that for EA to control Digital – it must be Digital.