Organizations around the world are focused on the leading edge of technology: Advanced analytics, automation, the cloud. But what about its trailing edge? As more and more organizations find their digital ambitions frustrated by the dead weight of IT legacy, Application Portfolio Management (APM) becomes a top CIO priority.
IT legacy = strategic drag
As your organization grows, its IT complexity and technology legacy also grow. And after a while, that legacy starts to act as a drag on your strategic ambitions: Monolithic technology platforms, insecure or non-compliant software and integration spaghetti all combine to kill strategic momentum.

Worse still, CIOs find themselves having to devote a large proportion of their valuable budgets towards maintaining low-value applications, and locked into unproductive vendor relationships.

So taking back control of your application portfolio is vital. Application portfolio management is a proven methodology for focusing your IT investment where it matters most. You can manage low-value IT systems out of your estate, freeing up the budget and resources you need to drive your strategy forward.
You can't tackle your technology legacy with legacy technology
But here's an irony: In the past too many application portfolio management efforts have themselves been hamstrung by legacy technology. Inflexible APM tools that can't adapt to the shape of your IT; long-winded setup processes; endless collection of irrelevant data points; and dashboards that provide plenty of metrics but little actionable insight. All of these can undermine even the best-planned application portfolio management initiative, leaving the benefits you promised undelivered.

Ardoq is different. A twenty-first-century SaaS platform designed by architects with long experience of mapping and analyzing complex IT landscapes, Ardoq delivers results fast and is agile enough to change direction at any time.
The result is a solution that delivers from the moment you log in.
Get started fast, then adapt
Time-to-value is critical, especially when you're just starting. Ardoq gives you a complete best-practice solution with integrations, surveys, business and technology reference models, visualizations, dashboards and presentations: End-to-end delivery from the moment you enter your first data point. Also, our knowledge base and best practice guides walk you through every step of the process.

But what happens when your stakeholders ask for a different metric or want to factor in a new strategic imperative? The ground is ever-moving, but with too many tools, once you're underway it's too late to change course.

Ardoq is completely configurable. Adding new types, new fields, new views, and new metrics can be done at any point in your APM journey without the need to stop or re-factor. It makes your application portfolio management initiative continuously adaptive - and continually relevant - to shifting organizational imperatives. No longer do you have to choose between time-to-value and flexibility - Ardoq gives you both.

So if you want to feel how the new application portfolio management is different from legacy approaches, try Ardoq.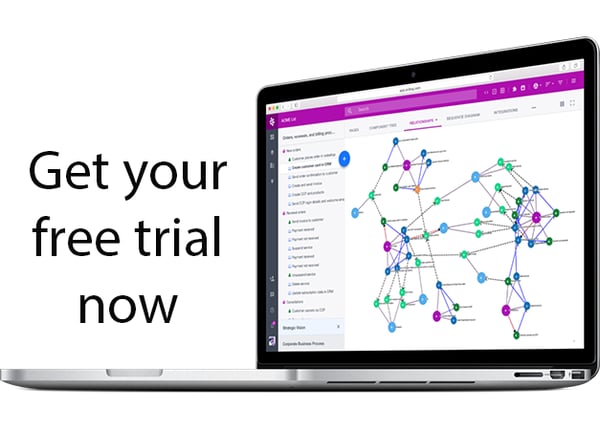 We would love to hear your own thoughts and experiences in these areas. Feel free to reach out at contact@ardoq.com or drop us a line on our Linkedin page.
Ed is the Product Strategist at Ardoq. With over 15 years' experience in the Enterprise Architecture industry, Ed's unique insight is instrumental in shaping the product roadmap and strategy for Ardoq. As a keen writer, you can find his name on much of the Ardoq material as well as the occasional screenplay. Ed is at the forefront of driving innovation in the company and has a strong belief that for EA to control Digital – it must be Digital.