When you're starting out on your Application Portfolio Management (APM) journey, it's easy to focus only on your own team's tasks. But reality tells us that any APM initiative extends well beyond your team's borders. It's an information value chain that starts with harvesting data from front-line experts and ends with presenting actionable insight to senior executives. It's a conversation with IT and business stakeholders from right across your organization. So you need a tool that can reach into the far corners of that organization, and reach out to those stakeholders, wherever they are.
Plug into your existing data streams
Data is the lifeblood of any application portfolio management initiative. Ardoq makes it easy to integrate your existing data.
Our simple Excel importer makes bringing in your worksheets fast and easy. And our ServiceNow integration connects seamlessly with your CMDB.
But the application world has changed a lot in recent years. Ardoq, as a digital organization itself, understands the need to integrate with modern DevOps environments too. We can plug into live and development environments such as AWS and Swagger. And our REST API means you can create two-way integrations with any RESTful endpoint.
And mapping data from those external sources doesn't need to be painful either. Ardoq's flexible graph database means it can adapt to your existing data, and connect it only where it gives value. It frees you up to focus on creating user insight, not bogged down in data transformation.
Take application knowledge direct from the source…
The data may be good, but the simple fact is the application portfolio management team does not have all the knowledge it needs to analyze those applications, or the resources to execute on its roadmaps. So bringing in domain knowledge from across your organization is vital.
Ardoq Surveys give you the ability to crowdsource application knowledge, whoever's head it lives in. Using Surveys, you can ask simple questions in non-technical language to capture application knowledge, not only from across your IT department, but also well beyond IT's borders deep into business IT.
… and present insight direct to your audience
But APM isn't about creating data, it's about creating decisions. To do that, you need not only to reach out to key influencers, but also speak to them in a language they understand.
Ardoq's sophisticated analytics and dashboards enable you to answer the 'Why' of application simplification in terms of business performance, not technical jargon. And by using our Presentation module, you can move beyond simple dashboarding to tell impactful stories on live data, sharing and creating a clear mandate for change.
Need to reach out to your stakeholders where they work? Ardoq can be integrated with your PowerBI dashboards, with Jira and, via our Zapier integration, with over a thousand other enterprise web applications including email, collaboration, and planning tools, making it a true platform for IT transformation.
Ardoq's unrivaled flexibility and connectivity means it connects the data, insights, people, and plans you need to transform your IT landscape.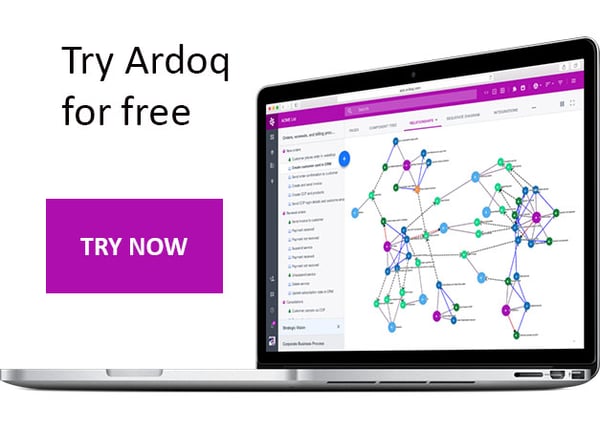 We would love to hear your own thoughts and experiences in these areas. Feel free to reach out at contact@ardoq.com or drop us a line on our Linkedin page.
Ed is the Product Strategist at Ardoq. With over 15 years' experience in the Enterprise Architecture industry, Ed's unique insight is instrumental in shaping the product roadmap and strategy for Ardoq. As a keen writer, you can find his name on much of the Ardoq material as well as the occasional screenplay. Ed is at the forefront of driving innovation in the company and has a strong belief that for EA to control Digital – it must be Digital.