Thank you to everyone who attended our event!
You can access the Ardoq Amplify recording in full if you missed it or want a refresher.
Our recent rebrand helped us focus on a new vision and strong values. This change was reflected at Ardoq Amplify, which some of you may remember as Tech Fest from past years. Our June edition focused on the "Democratization of Decision-Making," gathered expert speakers who dug into strategy execution and diversity in architecture, and shared their digital transformation stories.
Ardoq's CEO and Co-founder, Erik Bakstad, kicked off our first in-person event since 2019, reflecting on 9 years of acceleration and growth in Ardoq and the global landscape. The company has expanded from "2 people in a scrappy office in Oslo" to over 200 people, spread across offices in Copenhagen, London, and New York. We've done this against the backdrop of significant macroeconomic shifts, with the pandemic demonstrating how crucial it is to be equipped for unpredictable change. Organizations face the challenge of adapting to this new environment. "It's a mindset," Erik explained. "One thing is clear - the Enterprise Architecture domain is more open than ever."
Over the years Ardoq has seen that organizations that successfully navigate change have the right mindset and are very intentional about it. A methodological agile approach means that, when the world changes direction, companies can move with it. This is why we focus on building features into our product that support a successful change mindset. The Amplify event showcased our newest release: Ardoq Discover.
Erik earmarked the "essential" product feedback, input, and customer trust as vital to our successful growth and evolution.
"It's extremely gratifying to see things coming together." Erik Bakstad, CEO and Co-founder, Ardoq
Highlights and Insights from Ardoq Amplify 2022
Now, onto the key speakers. If there's a specific area you'd like to read, jump directly to them below.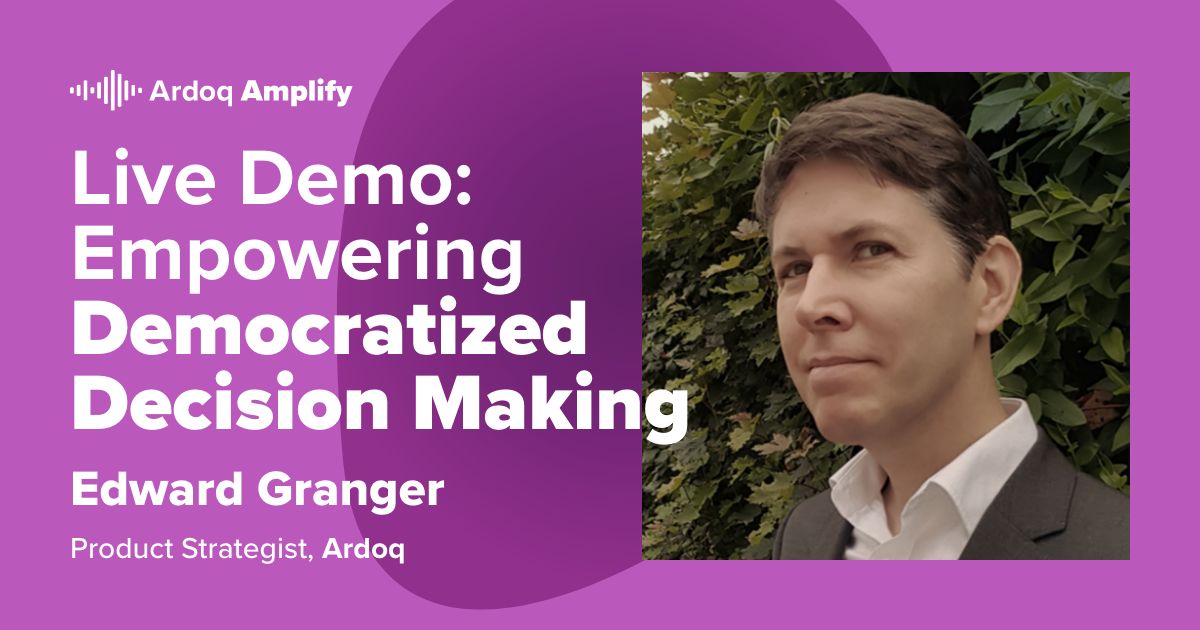 Enterprise Architecture in the Distributed Age and Ardoq Discover
Edward Granger, Ardoq's Product Strategist, broke down the big challenges facing the digital organizations of today and the factors driving democratized decision-making.
Organizations are pressed to make decisions ever faster, with significant pressure on traditional structures, from governance to product methodologies and leadership. With this pressure, there has been a great shift in the model of change, moving toward continuous delivery and away from the more established Plan-Build-Run model.
Continuous delivery is a fundamental realignment around consistent teams built around a value stream, with members spanning various disciplines. Sometimes called "fusion teams", they are often empowered to make IT decisions, posing challenges to traditional Enterprise Architects' (EA's) approach to governance. In combination with the rise of product teams, organizations are also seeing a rise in business technologists, individuals not funded or dependent on IT who make decisions on technology use and procurement.
The result is a greater degree of decision-making being made further out from traditional leadership structures or roles. Many more people are involved in change projects but lack the situational context to make effective decisions. They need the big picture that Enterprise Architects excel at building. Therein lies the crucial shift needed for Enterprise Architecture (EA), from relying on hard power for governance to soft power by building holistic views of the organization that can be shared and employed by the rest of the organization to make better decisions faster.
"To be digital, you must democratize, personalize and be ubiquitous." - Edward Granger, Product Strategist at Ardoq
To effectively democratize decision-making, it is important that EA tooling evolves towards having a core focus on an improved user experience. Our latest product launch, Ardoq Discover, has been shaped around enabling citizen users in organizations to contribute to and make use of architecture without hours of training or any understanding of metamodels. It strongly focuses on creating value and allowing people to coordinate and collaborate without an enterprise architect in the room. Ardoq Discover was created to:
Enable impactful decisions at every level of the organization
Present key insights in an intuitive way
Fundamentally change the value proposition around EA
Make architecture easier to access, understand and contribute to
Effectively embed architecture where the knowledge resides
See the recording of Ed's presentation and live Discover demo.
Q&A
Q: Will Ardoq Discover become the standard UI for core Ardoq, making it the default way of accessing the data in the repository?
We are using Discover to create new UX patterns and test concepts we are considering bringing into the core application, so may include some of these in core Ardoq in the future.
Q: Where does organizational maturity fit into the story? (i.e., how we see democratized decision-making, empowered teams, and using graph-based tools such as Ardoq to help make that happen)
The democratization of decisions is a maturity journey, not one that can happen overnight. Each organization decides which decisions to democratize and which to centralize, and it's difficult to be prescriptive from an outside perspective.
One approach we can recommend is to look at the 2 main factors in centralizing decision-making: responsibility and coordination. Responsibility ensures the decision is made by somebody who can take responsibility for the execution and outcome. Coordination ensures the decision is made by someone who has a full overview of the situation. Very often, the two are confused.
The need to centralize decision-making for coordination reasons is often a byproduct of a lack of transparency. I.e., data needs to be gathered from different silos, joined up, and analyzed before the decision is made. However, if the data is already joined up and transparent - like it would be in a graph-based EA tool - and widely available, then the need for centralizing the decision-making is reduced. Leaders are also likely to be more willing to delegate if they know their subordinates can access all the information needed to make effective decisions.
Q: How do you suggest we help organizations move from a command-and-control culture to one based on empowered teams?
Empowered teams are mainly needed when the pace of change and need for local understanding exceeds the ability of traditional projects or organizations to effectively support them. That could be where there are high levels of volatility or local specialization.
One way to determine this is to rate your business capabilities following our approach in Business Capability Modeling. This involves rating capabilities for how commoditized they are versus how far they need to be adapted to local market conditions. So you might rate customer- or market-facing capabilities as needing a high level of customization and high rate of change to stay competitive. In contrast, some internal capabilities like accounting or supplier management may be more commoditized.
After determining a business need for empowered teams, EAs can help inform where to empower and can help create transparency which enables a culture of empowerment, as touched on in the previous question.
For answers to more detailed or technical questions on Ardoq Discover, go to FAQ for Ardoq Discover.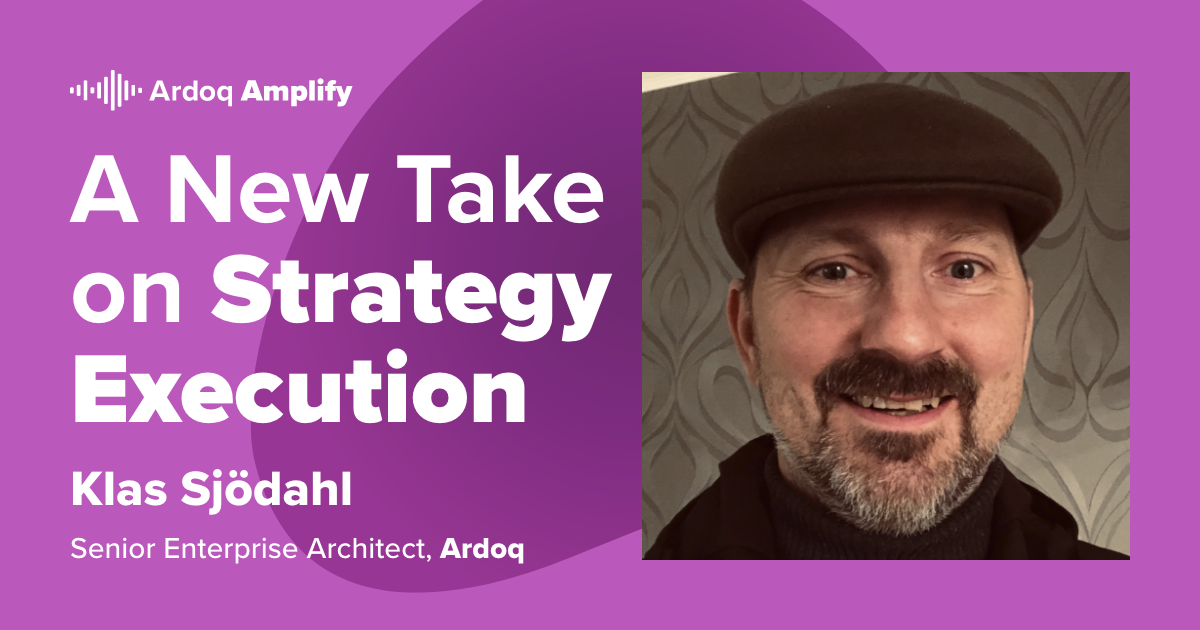 A New Take On Strategy Execution
Enterprise Architecture (EA) is trying to find the right solution for strategy execution and to govern the quality of data needed for change. The market has responded with agile models, but these are limited, especially in cross-domain environments. Fortunately, EA can help by giving insight and driving improved decisions within multifaceted, multi-domain, and complex change.
Klas Sjödahl, Senior Enterprise Architect, highlighted the pain points of change that prevent the drive for innovation, including insufficient time, limited funding, and risk.
To help overcome these challenges, Klas noted 4 key areas that Enterprise Architects can focus on:
Visualization aids communication. By improving understanding of the strategy execution elements of demand backlog, solution vitality, and execution capacity, the EA can visualize and socialize issues, including minimal convergence, demand evolution, and continuous reprioritization.

Creating an ecosystem between stakeholders is essential. Don't force change but prepare and try to find the right opportunity to implement change.

Using a range of resolution strategies, including pursuit clarification, harmonizing architectural and company cycles, changing calibration, and aligning enterprise architecture. Remember that while some changes can be made on the fly, others may require time and effort, and some may need multiple iterations.

To help stakeholders understand, sometimes a simple name change can aid in demystifying EA. Klas proposed rebranding the EA function, for example, using Solution Intent Guidance instead of Architectural Review Board.
Watch the video to see Klas's full presentation on strategy and execution.
Q&A
Q: The visualization strategy is great, combining many different streams and inputs into a single diagram. But how does the EA deal with these in the real world when many of the inputs are constantly changing?
The key is to first identify the insight support a specific stakeholder persona needs. For example, the support might differ significantly if it's a Digital Transformation Manager, Product Manager, CFO, or a CIO. Once you know who's getting the information, you are then able to explore what type of views, diagrams, and heatmaps would best facilitate understanding the context. For the specific purpose, it might come down to one single diagram. However, you need to analyze and understand which diagram gives the best approach.
At Ardoq, we use the method of continuously harvesting, updating, and joining up relevant datasets, making them transparent and widely available within the organization. The EA's attention is focused on keeping the data collection process of engagement and automation running smoothly, so the architecture repository is constantly being updated and, therefore, constantly generating refreshed views. With that, we are producing the full overview of the updated situation and giving the personas the information needed to make effective decisions.
Q: In your experience, what are some of the most effective ways to make a stakeholder ecosystem?
The simple answer is to identify the stakeholders and make them a natural part of your architectural views. This will make the connection between the stakeholders transparent and support their understanding of events happening next door, upstream or downstream. You can overcome the organizational barriers that prevent effective collaboration and start to lift the "fog".
A more detailed approach we would recommend is:
Identify the stakeholders and what component they are connected to within your architecture repository. This builds your stakeholder map into your enterprise architecture models, putting people-in-the-graph and starting to outline and clarify the unspoken dependencies.
Then, build a foundational understanding of shared concerns and shared ambitions. By now, people have become "first-class citizens" in your architecture, and here we can start to target our audience based on their indirect relationships, something only possible when using a graph database like Ardoq. Build stakeholder relationships based on paths (i.e., process, data flow) and/or based on groupings of things (i.e., application, data entity.
For more details on how this can be done within Ardoq, please see our article on using intelligent audience targeting.
Q: If it's important to balance the strategy execution elements of demand, solution, and execution capacity, how can you ensure you get even empowerment of the different elements?
As an EA, you need to be part of those events where prioritization decisions are made and share multi-aspect insights encapsulating the different elements. With this, you enable transparency and support a wider overview of the situation.
It's important to recognize that the democratization of decisions is a maturity journey, taking place over multiple iterations. Each step is a learning approach, helping identify the core reason for missing out on value and structured enablement. The continuous improvement approach shows what needs to be considered differently the next time. With time, iterations make it more difficult for individual private agendas and instead help you focus on extending the converged area shaped for success.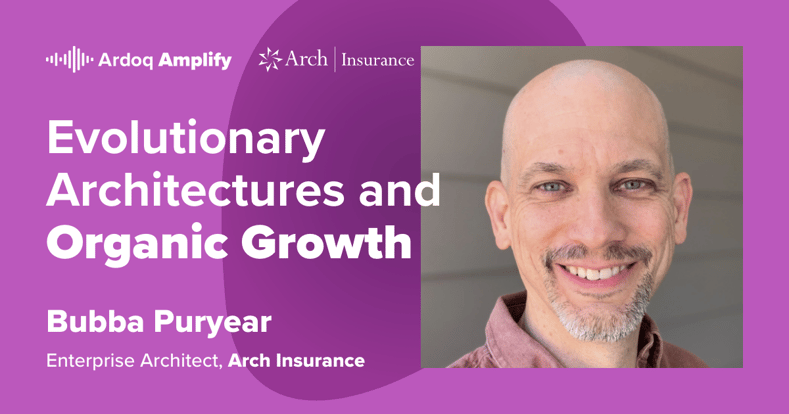 Customer Story - Arch Capital Group
Bubba Puryear, Enterprise Architect, shared Arch Capital Group's EA and Ardoq journey. In 2021 Arch Capital Group found they'd outgrown their technology and accumulated technical debt. Their data sources for application and technology catalogs were manual, varied, out-of-date, and incomplete resulting in poor alignment, quality, and format.
Within 2 weeks of starting in March 2021, they had their technology metamodel created and existing technology portfolio data in Ardoq so they could start shifting their governance processes off of manual solutions. They experimented with integration management and using Power BI to dump data into dashboards, finding what best worked for them.
Leveraging Ardoq's Broadcasts and Surveys features, Arch was able to engage non-architect stakeholders to capture and maintain data about applications, technology usage, DevOps maturity, and more. The tool invites others to collaborate on the architecture process by being easy to use, and not requiring special training. Other tools had not been able to do this well. This has allowed Arch to effectively share information about technology use across Arch and drive towards standardization as a federated EA practice.
As of June 2022, teams throughout the company use Ardoq Discover. Some even do direct demonstrations of the architectural design of their products to senior management using the visualizations they made in Ardoq.
"I haven't found a stakeholder yet who we can't train on Ardoq Discover in 5 minutes." - Bubba Puryear, Enterprise Architect, Arch Capital Group
In 18 months, they have succeeded with:
Open, transparent experimentation in segments with adoption across the organization
CIO / CTO-driven requirements that have an impact at the team level
Automation of many manual processes
Bubba credits their success to collaboration; they've included individuals and stakeholders on their journey. In addition, the whole journey started because of the initiative and support of the CTOs.
Arch Capital Group Ltd. is a publicly listed Bermuda exempted company that writes insurance, reinsurance, and mortgage insurance worldwide. Their 5,000 plus employees work in 60 offices around the world.
Enjoy Bubba's presentation on Arch Capital Group's digital transformation journey, available now online.
Q&A
Q: How does Arch Capital Group model their technical debt in Ardoq?
We've always thought of core tech debt in terms of standards and support alignment of technologies used to deliver and operate systems. We're looking into architectural alignment as a classification of debt as well.
Our CIOs agreed to a weighting scheme and metric definition for assigning a tech-debt score in terms of technologies that:
Put the company at risk
Are falling behind in terms of technology currency
Are not standards
We took those categorizations of debt and created a calculated field on our Technology entries. Then we use the references from Technology components to Business Applications (for both direct and transitive relationships through hosting infrastructure) to create another calculated field on Business Applications which is the weighted "tech debt score" for that application.
Q: What are the 3 most important questions that you have been able to answer for stakeholders with Ardoq?
The most important question we've answered: Which systems holding technical debt have the highest risk profile?
We've also been able to
Track our teams' DevOps maturity over time
Empower our Help Desk to make decisions on software requests
Enable self-discovery and curation of our application integration dependencies
Ardoq has really helped enable getting our EAs who work in different silos to collaborate together, share design, and build on each other's work. While that's not a business question to answer – it has really helped increase EA's value in the organization.
Q: When working with reports, do you still use Power BI? If so, could you give examples of when it's better?
Until that last update in the Reporting module, any time you wanted "drill-through" for data generated via a Gremlin report, you had to export it to an external reporting system. We haven't looked where we can pull any of those "back in" yet.
The other cases for exporting to a reporting solution are for ad-hoc analysis involving aggregations (though Ardoq has recently added some support for aggregations within a report), advanced visualizations, and for reporting point-in-time data. For example, we prefer to keep current and target state models in Ardoq. One thing we're exploring is keeping historical assessments in Power BI and only having current state assessments in Ardoq. That would allow you to easily get the current state and cross-team assessment visuals in the main platform while trend analysis would happen in Power BI.

Building Diversity in Architecture and the Women in Architecture Initiative
Whynde Kuehn, Co-founder and Managing Director of S2E Transformation, framed diversity as a key driver to amplifying the Enterprise Architecture discipline. She emphasized the need for teams that draw on a broad spectrum of outlooks and experiences to enable organizations to make informed decisions and better solve bigger problems.
She pinpointed how EA needs to be able to work across organizations and ecosystems. To do that, "we need all of us." With just over 10% of women in EA roles, reflecting on and raising awareness of the benefits of striving for more diverse teams is important.
Whynde spoke about diversity in architecture roles and unifying across specializations such as business, application, data, and tech. Her extensive experience in EA has given her the insight that EA can adapt and make intentional steps to improve diversity, such as:
Widening the talent pool
Building the "on-ramp" for women and other underrepresented groups in EA
Reflecting on the dynamics that go into the decision-making
Ultimately, it's about creating space for communication and collaboration, asking for more perspectives to build meaningful and actionable dialogue. Together, EA teams can form a diverse collective, unified voice to deliver value.
Having a diverse architecture team also allows Enterprise Architecture to resonate with a lot more people in your organization, building relationships and embedding architecture thinking across an organization." - Whynde Kuehn, Co-founder and Managing Director of S2E Transformation
Watch Whynde's presentation on diversity and read more about "Strategy to Reality" in her new book.
Q: When EA teams want to improve diversity today, what action(s) would you put at the top of the list?
Start with reflecting on the current state of diversity on the EA team from all angles. For example, does our team have diversity in the levels and types of team members' knowledge, experiences, and abilities? Interests and passions? Personalities? Perspectives, backgrounds, and cultures? With this understanding in mind, as you expand and evolve the EA team over time, be intentional about your next hires (and team development as well) – even if that means taking an extra step to broaden the talent pool to bring in candidates that will add to the diversity of the team.
Being intentional about building team diversity is one of the best things you can do to make a difference. In parallel, we can all work together to create pathways to cultivate more diversity in architecture worldwide.
Q: Do you also place Business Relationship Management (BRM) as a core capability of EA as a function?
We would consider Business Relationship Management (BRM) as a separate but mutually beneficial discipline to partner with EA. In fact, Business Relationship Managers are key consumers of architecture, especially the business architecture layer. To truly succeed, an EA practice within an organization needs to work in an ecosystem of stakeholders and partners, which is a good example.
Q: Are people who work with EA but are not EAs welcome in your organization, Women in Architecture?
Most certainly! Beyond people in enterprise architect roles, anyone who works with or advocates for enterprise architecture in any way is most certainly welcome to participate in the Women In Architecture (WIA) global initiative.
In addition, it is important to highlight that Women In Architecture is a movement named after what we are trying to achieve collectively: creating an equal balance of women working in the architecture discipline. Regardless of gender, if you are an architect or an advocate for architecture, you play a critical part in this movement, and we welcome you to participate.
You can share your interest by visiting Women In Architecture website, and someone will be in touch.
Thank you again for joining us, either at the event or here on the blog. We hope you gathered valuable insights to give your organization a modern approach to digital business design. We look forward to seeing you at the next Ardoq Amplify event. Save the date: 13 October 2022.
See how Discover can enable impactful decisions at every level of your organization. Book a demo today!
Rebecca loves to play with words, constructing clear and concise stories. A Michigan native, she has lived in Europe working in Communications for over 20 years. Enterprise Architecture is restructuring her life, as it can your company's.