Enterprise Architecture as a strategic tool empowers organizations to unlock the future of business—but only if they can overcome common stumbling blocks.
As agile organizations embrace growth and change, they invest in the latest technology to help drive their continued success forward. Throughout the process of this change, many organizations fail to recognize the full potential of the Enterprise Architecture (EA) Strategy, using it only to gain an overview.
While EA can map an application landscape, it can do so much more. Used to its full capacity, it provides a company with vital information about infrastructure and investments. In turn, the resulting data helps businesses know what to prioritize, how to best plan and gain certainty in their decision-making process.
Ardoq wanted to understand what has held companies back from accessing EA's full potential, so we put together a global survey. We asked nearly 300 EA professionals and related stakeholders worldwide about what obstacles they believe stand between their organizations and successful change.
Read on for a glance at the five steps, or simply jump straight to the full survey report with all the actionable tips. Get your copy of the full study, 7 Tips to Improve Your Journey Towards Progressive EA.
Step 1: Collect Quality Data From the Key Users
All change plans require knowledge of where a business currently stands, especially when dealing with the IT landscape. Traditionally, Enterprise Architects could map a solid information overview using centralized documentation. However, EAs quickly find that the centralized method becomes a full-time job when they try to achieve a complete company overview.
In our survey, 24% of organizations noted they prioritize detailed and formalized architecture documentation over democratized and mass-consumable knowledge capture.
Democratized data provides the key to having a full organization-wide overview while saving everyone's time by delegating the data collection to those with the most knowledge about their IT usage: the employees who use it.
Ardoq saves time for everyone. Instead of having to go into one-hour meetings three times a year with multiple employees to discuss what applications they use, own, or are knowledgeable about, you can literally do this in just 10 minutes with Ardoq.
Start by using Ardoq's configurable platform. Surveys involves everyone in data collection while doing the work for you. It comes with prepared templates and allows you to send survey invitations and reminders. Employees with platform ownership can inform you of processes, strategies, and other vital details. As a result, you have more time to spend on tasks that generate value for the organization.
Step 2: Manage Risk, Cost, and Change
Organizations of all sizes and ages need a well-maintained overview of the organization's governance to manage risk proactively. In reality, though, just one-fourth (26%) of organizations believe they have complete visibility and control of risk within their IT portfolio.
Comprehensive insight into the application experience helps you identify potential risks and provide confidence to stakeholders that tools are being handled correctly.
Some IT areas may require some additional outsourced expertise. For example, many companies outsource cloud migration to a commodity operator. With all systems in the cloud, EAs can quickly provide access to them. In addition, the cloud further reduces operating risks; there is little downtime in the cloud.
Step 3: Control Your IT Portfolio
Cohesive management of IT organizations requires having a full overview of EA governance. However, nearly half of the survey respondents (42%) admitted to their organization using significant amounts of shadow IT. In their organization, they have to deal with higher risk exposure because some IT infrastructures hide in the shadows.
Application Portfolio Management (APM) provides a complete overview of what's happening in your organization. With it, you can compare systems and programs and weed out low-value systems, putting strategic enterprise architecture into action.
Step 4: Simulate and Compare From Now to the Future
A growing business is always changing, yet ironically, not many businesses plan for change. Only 20% of organizations model how future states will affect their business.
On the flip side, 80% of organizations that don't model are potentially caught in a cycle of reacting. They're forced to put out the fires burning hottest without a solid plan. For them, there is no time for long-term strategic business planning while they are in a permanent state of fire-fighting.
To escape the state of reacting, you can use Ardoq's Scenarios. Scenarios models an organization's future state, which reveals the potential risks, outcomes, and challenges of potential change. With Scenarios, you can automatically track branches of the enterprise data, showing the As-Is situation while defining the To-Be changes.
Using Scenario modeling, you have a window into the future states. Looking through that window, you can isolate the areas that need attention or focus while moving towards reaching their target.
Step 5: Inform Stakeholders with Automated Insights
Stakeholders should be kept in the feedback loop, so everyone can use the information EAs have collaboratively collected for strategic planning and prioritization. Nevertheless, only 28% of organizations regularly share their EA insights with other teams in the business.
Sharing information with the stakeholders keeps them updated on how projects are progressing, giving them confidence in the EA team's success and value added to the organization. You can filter out information for each specific stakeholder's priorities with Ardoq's Engagement Platform. For example, Presentations generate an overview of progress with the parameters you set for each group of individuals.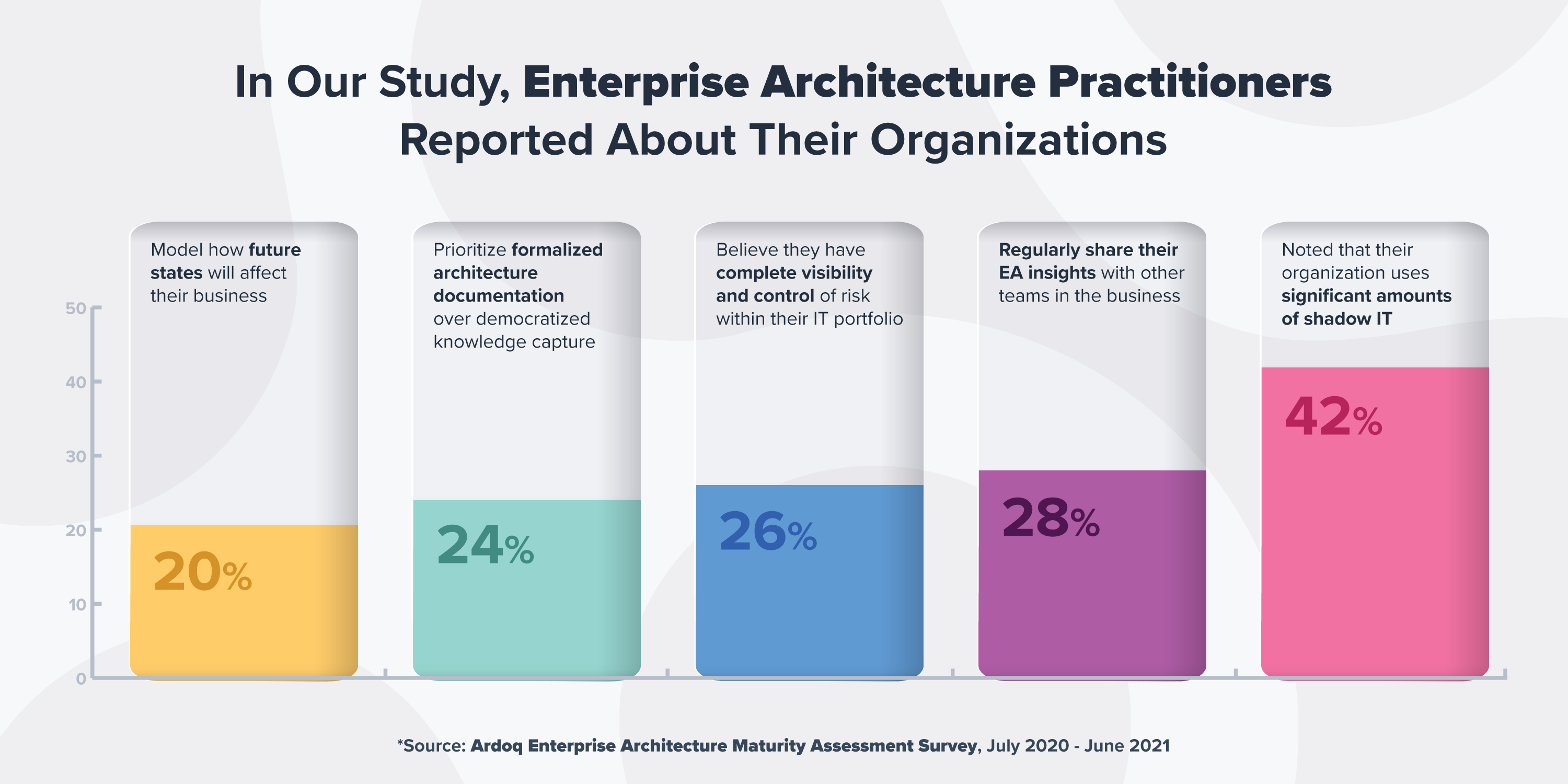 Key Takeaways on How Strategic Enterprise Architecture Can Impact Change
The journey of moving to strategic Enterprise Architecture involves the whole company from colleagues contributing to data collection to decision-makers using targeted researched data from the EAs to steer the company.
According to our research, these are the top five actions organizations can take to mature their Enterprise Architecture function, succeed with change, and prepare for the future:
Collect quality data from the key users
Managing risk, cost, and change
Control your IT portfolio
Simulate and compare from now to the future
Inform stakeholders with automated insights
How can EA drive the success of your company? What kind of questions should you ask before launching a project? Discover what fellow EAs reported in the full survey report: 7 Tips to Improve Your Journey Towards Progressive EA.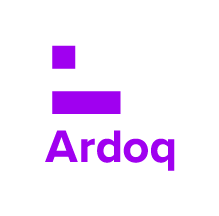 Ardoq
This article is written by "Ardoq" as it has multiple contributors, including subject matter experts.