Enterprise architecture strategies are out of sync with digital business agendas. This is the findings of a 2019 Forrester report commissioned by Ardoq to evaluate how well organizations can activate operational and business data to support business priorities. The need to cover a broader scope of solutions with greater detail than they have needed historically, increases the value of modeling technology landscape and business capability.
Below you will learn how Schibsted is using Enterprise Architecture to enable the business from an IT perspective.
Merging Several IT Departments Into One
For Schibsted, an international family of digital consumer brands and more than 5000 employees, the initial challenge when merging from a split company to one entity, was missing the architectural overview and tooling to oversee and handle their data. Schibsted went from being a company with several IT departments working very differently with IT, to one department left with several portfolios, unsure of where and how to start their documentation journey.
Rasmus Ulfsnes, Enterprise Architect at Schibsted, was set to oversee their documentation process. To make sure the relevant services were provided according to where the company wanted to be, and aligned with what they were trying to realize, he mapped their existing application portfolio with Ardoq.
Data-Driven and Flexible as Deciding Factors for Enterprise Architecture Tool
Flexibility was one of the deciding factors as to why Schibsted chose Ardoq as their tool for enterprise architecture. The complex challenge the EA team was facing, not knowing what data they had or where to start, left them in direct need of a data-driven tooling where they could fill in data and build their structure throughout the documentation process. Merging all their existing portfolios to one view was critical for Schibsted in understanding their next steps.
"Another reason why we chose Ardoq was because it, at the time, was a young company with a strong vision of where they were heading. We shared their opinions and ideas on how to work with data, and this let us have more of a partnership with them, rather than a customer relationship. Along the way, we have been able to influence the development of the platform. The people at Ardoq do not only build their platform from their perspective but the customer's perspective as well."
A Complete Overview of the Organization's Entire Enterprise Architecture
Whether it's processes, information, applications, services, or down to the underlying infrastructure, cloud or on-premise, Ardoq provides Schibsted with a solution that enables a full view on what is being done in different areas of their enterprise architecture.
Ulfsnes talks about the value of data spread across the organization. "The value does not lie in data spread across employees heads, home folders or in emails. "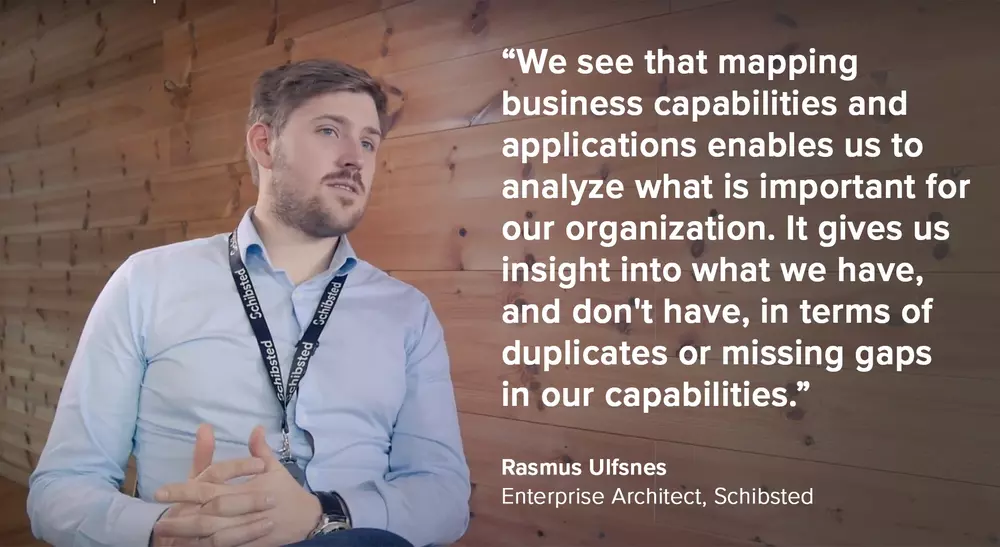 Ardoq's Business Capability Modeling module includes everything you need to get started in mapping out your capabilities and identifying points of improvement, investment, risk, and alignment. The best practice approach includes surveys, calculated fields, dashboards, and pre-configured reference models. Also, you can use one of our many industry-specific capability models to get your project kick-started.
Integrations are Important - Collaboration is Key
To optimize their data collection and increase the value of their insights, Ulfsnes and his team have integrated Ardoq with a variety of data sources. Bringing multiple sources into one platform using Ardoq's out-of-the-box integrations and open rest-API, Ulfsnes can start to build a detailed picture of what was previously islands of disconnected information. However, this is not the complete picture required, so collaborating with the wider organization is still key to their success. To do this, Schibsted has rolled out a set of tailored surveys to different roles and groups outside the enterprise architecture team. Combining these data sources, the automated and the manual, Schibsted is now gaining an actionable overview to drive value through successful change.
"Because data inherently has an expiration date, it's important for us to interact regularly with the rest of the organization, not just the IT department". Though the team is trying to automate as much of the documentation as possible by using Ardoq's integration features, there are still parts of the documentation that is not possible to automate. To keep the rest of the documentation up to date and valuable for the organization they use surveys to collaborate and connect with stakeholders.
Use the survey feature in Ardoq to crowdsource information from the organization. Surveys allow more users to contribute with data without having to learn how to use another tool. The possibility to create custom surveys for specific users/users groups gives you full control of the data and updates. Read more about the Ardoq Survey feature here.
In the future, Ulfsnes envisions Ardoq as the go-to tool for insight sharing across their organization. "By being a flexible and agnostic platform, Ardoq helped us solve the initial challenge we had with lack of oversight and information. My advice for those with similar challenges is to look at the data you have, and start building your data because that's your assets. That's what gives you value to understand what you're doing now and what you should do next time."
Learn how Ardoq has helped one of the world's largest media companies deliver a holistic view and valuable insights, which in turn helped identify efficiency savings worth an estimated $10 million.