Chatbot integration can allow business executives to quickly access valuable information that previously would have taken months of work.
It's hard to imagine a more fun time to be in the wonderful world of data analytics than today — well, perhaps with the exception of the future, of course.
At Ardoq, we've been burning the midnight oil pushing the frontiers of data-driven New EA, and we're super excited with how EA is becoming all about real-time augmented intelligence at disruptive speed.
Before we talk about 2019, let's spend a few minutes on the important concept of a DTO — or Digital Twin of an Organization — and how our work on DTOs intersects with our work on our chatbot.

"A digital twin of an organization (DTO) is a dynamic software model of any organization that relies on operational and/or other data to understand how an organization operationalizes its business model, connects with its current state, responds to changes, deploys resources and delivers expected customer value. It holds disruptive potential to create visibility, to deliver situational awareness and to support improved enterprise decisions."

- (Gartner, 2018)
At Ardoq, the way we're approaching the delivery — and critically the usability — of a DTO for the CIO/CFO/CDO is to dish it up as a chatbot. A DTO underpinned by a chatbot user interface will allow business executives to ask questions directly to extract valuable information.
For example, this could be to discover cost optimization opportunities that deliver most value, but that do not introduce new risk of compliance gaps. They'll be able to easily visualize complex interdependencies between functions, processes and KPIs to drive value. Previously, such advanced EA cases would take months and rely on hundreds of hours of expert work.
Enough talk. Seeing is believing.
It's our great pleasure to introduce you to Dolores, our very own Ardoq Chatbot, who is going to be busy training with our beta customers during 2018.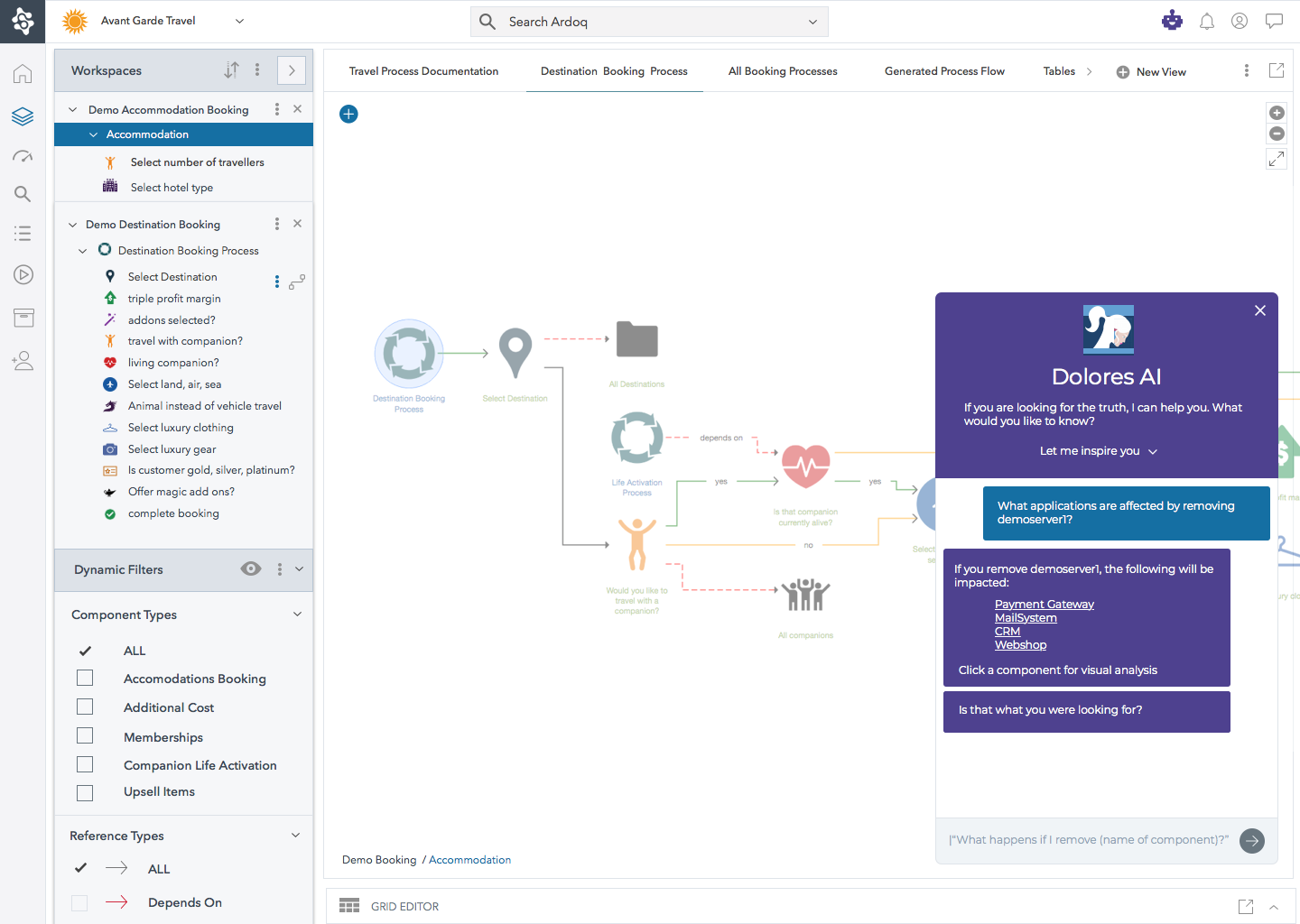 If you're new to Ardoq and would like to know more about how you can soon be talking to your DTO, please do get in touch. If you're already an Ardoq customer and would like to participate in our 2018 Beta Program, do reach out to your friendly human customer success manager to learn more.
The future of New EA is very bright.
Additional notes
Augmented analytics is a new way of collecting, interpreting, and acting upon insights derived from important data an organization collects about its operations. By automating this process using machine learning, natural language processing (NLP) and artificial intelligence, organizations are able to spend much less time on collecting data and turning that data into insights, and instead more time on implementing actionable changes on that data that in turn will offer the company real benefits.
A chatbot is a computer program that simulates a human being over a chat interface. There are two types of chatbots: the first is less sophisticated and is only composed of a series of rules. It does not understand language, and does not improve its ability to provide better answers as it's being used. The second, however, is way more advanced and uses machine learning to constantly improve its ability to provide relevant answers to requests the more it's used.
Get in touch to schedule a demo and see how Ardoq could benefit your organization.
Download now the New Enterprise Architecture Magazines by Ardoq: