Bold, Caring, and Driven.
Three simple words encompass the culture of Ardoq. Bold to build and iterate a tool that connects IT and Business. Caring towards fellow Ardroqians, customers, partners, and communities. Driven to have record business growth and be a leader in our industry.
Ardoq has a thriving fitness subculture; many small groups meet to run, play squash, ride bikes, hold monthly step competitions, or take annual skikiting trips. Some of them turn exercise and personal goals into a public cause. One of these Ardoqians is Chaz Jackson, Customer Success Manager, who shared his experience about running the NYC Marathon while fundraising for The Leukemia & Lymphoma Society®.
A Thirst for Running and New Challenges
Chaz Jackson, a native of Louisiana, is known in Ardoq for his quick smile, sharp sense of style, and dedication to fitness. After work, he teaches classes at Equinox Fitness Club up to eight times per week. Teaching his first running course pushed him to improve his personal practice and led to a marathon.
Shortly before the pandemic, he ran his first half marathon. While running he thought, "I'm having a great time, but why would I ever go twice as far?" After the pandemic hit, however, he suddenly had a lot more time for running. All of his fitness classes moved outside, and Chaz led groups twice weekly, rain or shine. Distance runners in his group encouraged him: "You could totally do a full marathon."
The second time running 20 miles in practice, I didn't feel too well. I probably didn't give myself proper recovery time. I hit a wall four weeks before the actual event. My legs never quite felt great again. Those last weeks should be relaxing as you tone down the training, but I just felt heavy. It made me wonder if I'd manage the race.
The Training Begins
When he watched the 2021 NYC Marathon participants run by his apartment in Manhattan, Chaz had a eureka moment. "I got all fired up and thought, 'I'm physically capable of doing this. I couldn't do it tomorrow, but I'm going to figure it out, get a training plan, and do this.'"
Chaz started off on his 16-week training strategy. "It's actually very moderately paced, but it's a huge time commitment. There are four sessions a week from 45 to 90 minutes, sometimes longer." Of course, these were added on top of his normal fitness teaching, work, and social life. It became a very busy three months.
Then came the task of actually entering the race. Several of Chaz's friends had already ran the NYC Marathon for the Leukemia and Lymphoma Society®, and he decided to also run for a good cause. He committed to raising $3,500 USD for the organization. In the end, he surpassed his goal and raised $4,065 USD.
Chaz felt inspired by the people who gave. "While I wanted to run the marathon as a personal goal, it was also about something much bigger. I was proud to run for such a great cause and organization. A friend donated through Facebook, and his roommate's mother saw it and contributed because her father passed away from leukemia. A cause connected us even though we'd never met before."
At mile 23 in the race, it was further than I'd ever gone before. And my legs felt stiff and heavy. I thought, OK my legs feel like ****, but they've felt like **** for the past four weeks. So I know this. I just need to keep going.

Running NYC Marathon for Fundraising
The Leukemia & Lymphoma Society® (LLS) helps lead the global fight against cancer. The LLS mission is to cure leukemia, lymphoma, Hodgkin's disease, and myeloma, and improve the quality of life of patients and their families. The organization funds blood cancer research around the world, providing free information and support services. In addition, they advocate for all blood cancer patients seeking access to quality, affordable, and coordinated care.
Chaz landed well over his fundraising goal, partly thanks to his own colleagues at Ardoq who donated 30% of his total money raised. "People from all over the company donated: Copenhagen, Oslo, and the UK, as well as the New York office. I came to Oslo for the first time in the middle of October, and people asked about training and how it was going. It was just really heartwarming and encouraging."
Chaz squirms in his seat and looks away from the Zoom camera. "It was a bit embarrassing to be in the spotlight that much. I'm not the only person in the company who's running or fundraising for a cause. The others deserve credit, too." He gives a quick smile. "I mean, 50,000 people ran the race with me."
In the last year, many Ardoqians have shown their bold, caring, and driven nature by giving back to their communities. For example, a recent food and supplies collection for Ukraine by the Oslo office was sent for free by the Norwegian Post. As a company, Ardoq shows the spirit of giving to the charity Sabona each Christmas.
When I practiced running the Queensboro Bridge on a clear day, the whole of the Manhattan skyline welcomed me. But on race day, we were running under the covered car lanes. There were only vertical slivers of the sky next to support beams and dim neon lights. Slowly we see daylight and know we'll make it. Then suddenly, we're back in Manhattan, and it's party time again. People lined the sidewalk, and everybody was cheering.

The Finish line
My friends and colleagues cheered me on throughout the race. Especially toward the end I felt fatigued and needed cheering and waving…then I crossed the finish line, and there was all the excitement and relief that it's over.
Chaz met his race goals with his colleagues cheering him on, and exceeded his donation commitment. Following the run, Chaz celebrated by eating pizza while reliving the race with his partner, Brandon, and friends. Then he took it easy, "it was a struggle to walk downstairs." After three days, he'd overcome the 'post-marathon blues' and started daydreaming about the next marathon. "This time in another location: Chicago, Washington D.C., or maybe in Oslo for a challenge of real hills."
We at Ardoq are proud of his accomplishment.
Discover more about Ardoq's culture and careers.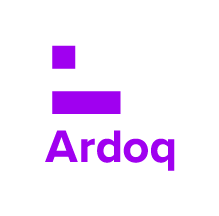 Ardoq
This article is written by Ardoq as it has multiple contributors, including subject matter experts.