As our customers adopt Ardoq and grow into more use cases, the amount of connected data grows rapidly.
"It is hard to see the trees when you
are standing in the middle of the forest."
- Ardoq user
When you succeed in gaining adoption across your organization, you can be faced with a new challenge of trying to find the right data for the right discussion.
We have taken this feedback to heart. Part of our choice in utilizing graph technology was the ability to connect any data and to be able to use those connections to gain further insights. In order to make this a powerful feature and not a hindrance, we have brought the power of graph queries to user friendly preset filters. These filters are customizable by you and are shown to users as a simple drop down, removing the need for users to learn Gremlin in order to find the insights they are looking for.
Read about how you can get the most out of your graph data with Gremlin here.
Similar to how Ardoq's visualizations support filtering components and references based on their attributes, Ardoq also supports filtering based on graph queries. Graph Filters give you fine-grained control of which components and references to show. These new filters are not only based on their attributes but also based on the features of directly or indirectly connected components or references.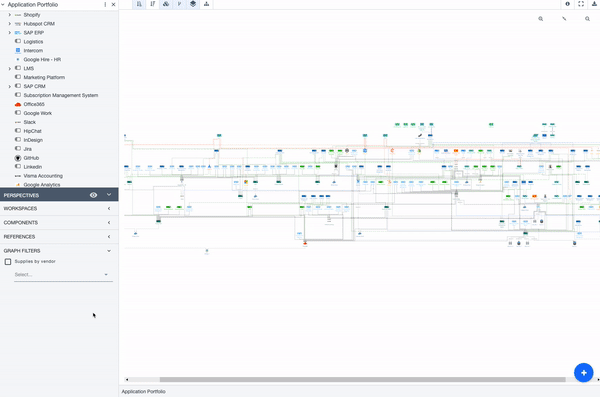 Here you can see how with a single click we can reduce large data sets to show only the sub-set of data related to individual suppliers. This is done by understanding the relationships between vendors, applications and capabilities and using those in a parameterized graph filter.
Use cases
Graph filters have many use cases. Simply put, they are an excellent way to visualize the result of a Gremlin query in Ardoq's different views, which means that they can also be added to presentations. Graph filters will enhance your visualizations to show complex connections beyond simple filters.
You can apply these filters to give you business insights tailored to each stakeholder, department or business question.
For example, take a use case where you use filters to only to show the components and references which are relevant to one user. If a user has opened an Application workspace and only wants to show applications that are used by a specific department, the user can simply turn on a graph filter that returns all applications used by a particular department.
You can also apply this to your strategy & execution workspace, where you can use graph filters to see all relevant information on a single strategy or project and nothing else.
Or apply graph filters for quick impact analysis. Take an example where you have a query to identify the business impact of a server outage. With parameterized filters, you can select the server in question and only see the dependencies in question ending at the process, product or capability which may be impacted. This can enable your operations department to better manage and maintain their infrastructure.
Finding dependencies in complex and deep IT infrastructure has never been simpler. With a simple toggle, the graph filter will hide everything except the chain of dependencies from source to target.
Parameterized
Creating one graph filter for each user or department would require a bit of work, though, so Ardoq also supports parameterized graph filters. Parameterized graph filters are based on two graph queries. The first query returns a set of components, which act as parameters for the second query. When applying such a filter in an open workspace, the user can select which parameter to use from a dropdown menu. Then the visualization will show results that depend on which parameter was selected.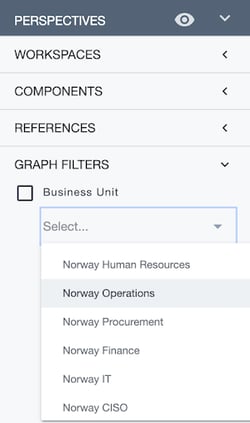 "The flexibility of graph filters has no ends and is limited only by your creativity."
Applications filtered down to one supplier and plotted according to their number of integrations and the number of business products they support. Sized by cost: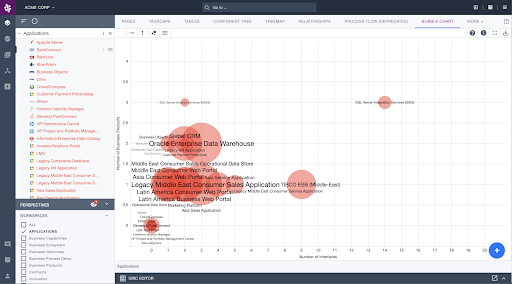 Graph filters will give you precisely the perspective needed for every situation. Graph filters will not only increase the productivity of your workspace but for all of the stakeholders, you will showcase. Graph filters are a further step towards data-driven visualization for optimized control. The flexibility of graph filters has no ends and is limited only by your creativity.
For more detailed instructions on how to use Graph Filter, please refer to our Knowledge Base article about Graph Filters.
Kristian is a Chief Architect at Ardoq, empowering EAs to implement successful digital transformation strategies.