Ardoq has powerful visualization capabilities that gives you an overview of your data. Ardoq also has a powerful graph engine. Calculated fields combines these two features to let you visualize more complex properties of your data.
Think of the calculated fields as an Ardoq equivalent to Excels formulas. In the same way that Excel can calculate values based on terms from multiple sheets, Ardoq can calculate values based on terms in the entire graph.
For instance you can accumulate and distribute cost from your applications across your Capabilities, and visualize this information in our dashboards or presentations.
The output of calculations are stored as plain field values on Ardoq components, and can be used across all visualizations, dashboards, perspectives and presentations.
---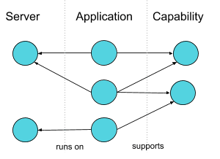 What is a Graph Database?
A graph database models a graph, with nodes that are connected via edges. It enables you to pick a starting point in the graph, and traverse until you match a certain criteria. For instance you can start at a particular server, find out which application runs on that server. From there you can traverse further to find out which capabilities that are affected by that server crashing.The primary datastore in Ardoq is MongoDB, which is a plain document store. Data is synchronized to a graph database called
Apache Tinkerpop
.
Apache Tinkerpop is a popular alternative to Neo4j.
---
Calculated Fields used on your Application Portfolio
In Ardoq we have developed an Application Portfolio Management bundle. In this bundle, in the Application workspace, we use two calculated fields to reduce six assessment criteria into two dimensions, for display in a bubble chart; how your applications fit into the business use and from a technical perspective.
The Business Fit is based on three user editable variables: Functional Fit, Availability and Quality, and Business Strategic Fit, variables that can be gathered through surverys towards the users themselves. The dimensions are weighed and added together to generate a the Business Fit.
Similarly, the Technical Fit is based on fields Technical Integrity, Maintainability and Agility and Technical Strategic Fit. All numbers are in the range between 1 and 5.

The calculations runs nightly, or can be triggered on demand.
This is how the input fields, as well as the calculated fields look in the Ardoq grid editor. Note that the calculated fields are read-only:
Next steps - limited only by the imagination
The Application Portfolio Management use case only scratches the surface of what's possible to do with the calculated field functionality. We will follow up with blog posts as we use calculated fields in more use cases. We're really looking forward to showing how we will calculate risk scores with this feature. We will also go more into how you can use Gremlin queries to take calculated fields to the next level.
As a small example, here's a Gremlin snippet that collects the number of references going in and out of each component:

Or if you want to find the mean value of components that are connected with a reference of type "is Hosted on":

For more detailed instructions on how to use Calculated Fields, please refer to our Knowledge Base article.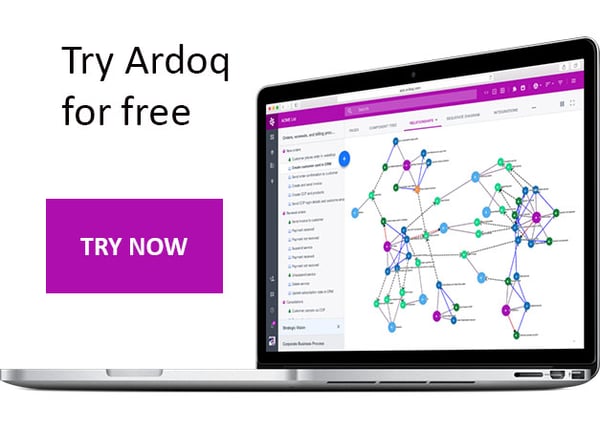 We would love to hear your own thoughts and experiences in these areas. Feel free to reach out at contact@ardoq.com or drop us a line on our Linkedin page.
Kristian is a Chief Architect at Ardoq, empowering EAs to implement successful digital transformation strategies.