As we announced in December, we've released a beta version of Ardoq webhooks(to get access, use the form at the bottom of this post). Powered by webhooks, we've also built a beta version of an Ardoq integration with Zapier, the popular automation platform that connects web apps.
Zapier Integrations
Using Zapier, you can do things like create new Trello tasks from starred Gmail messages, get notified about Github activity in HipChat…the possibilities are extensive. But the point is: Zapier has a huge catalog of web apps that you can create integrations between, and we want to add Ardoq to that list.
What You Can Do With a Zapier-Ardoq Integration
As this is a beta implementation, there are some limitations, primarily regarding updating Ardoq data. For now, you can't update existing Ardoq objects, only create them. We plan on releasing an update soon that will enable updating, but for now most of the power of Ardoq+Zapier will come from pushing Ardoq changes to other platforms, and not vice versa.
With this limitation in mind, here are some of the things you can do right now with the Zapier integration:
Push all changes made in Ardoq to Google Sheets to keep a log – keep a record in Google sheets of any change made in your Ardoq workspace, information on who made it, etc.

Create Ardoq components from email – send an email to your unique Zapier email address to quickly add components to Ardoq on the go.

Create and update tasks/issues based on Ardoq changes – you can create new Github, JIRA, or Trello issues based on components that get created in Ardoq. You can also update those issues when changes are made to the corresponding components in Ardoq.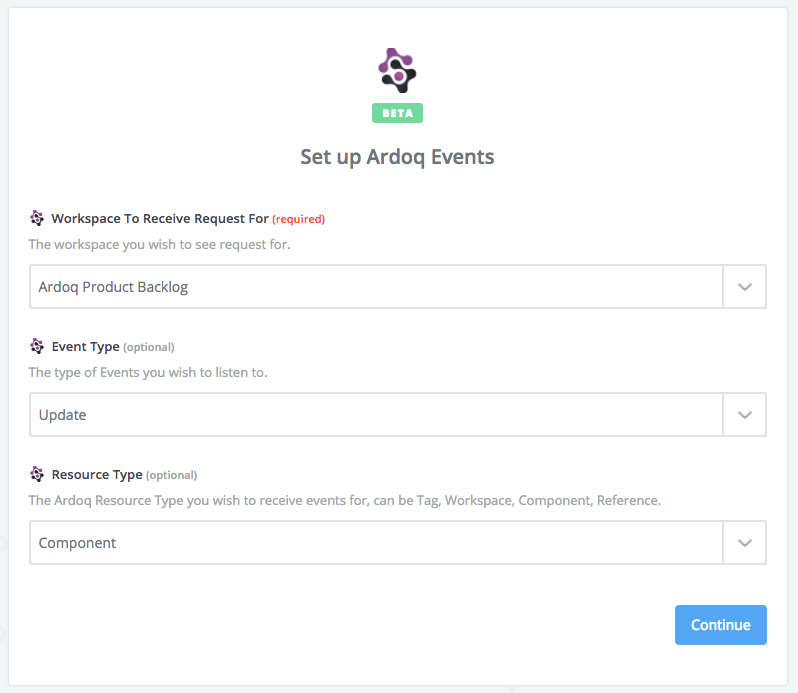 Ardoq Object Update Capabilities Coming Soon
When we release the ability to search for and update objects in Ardoq, you'll be able to build more robust integrations, such as:
New Relic asset management – keep your assets in Ardoq updated based on changes detected by New Relic.

2-way integrations with task managers – mirror changes made in either Ardoq or an app like Trello or JIRA, so you can bridge the gap between tools used in your organization.